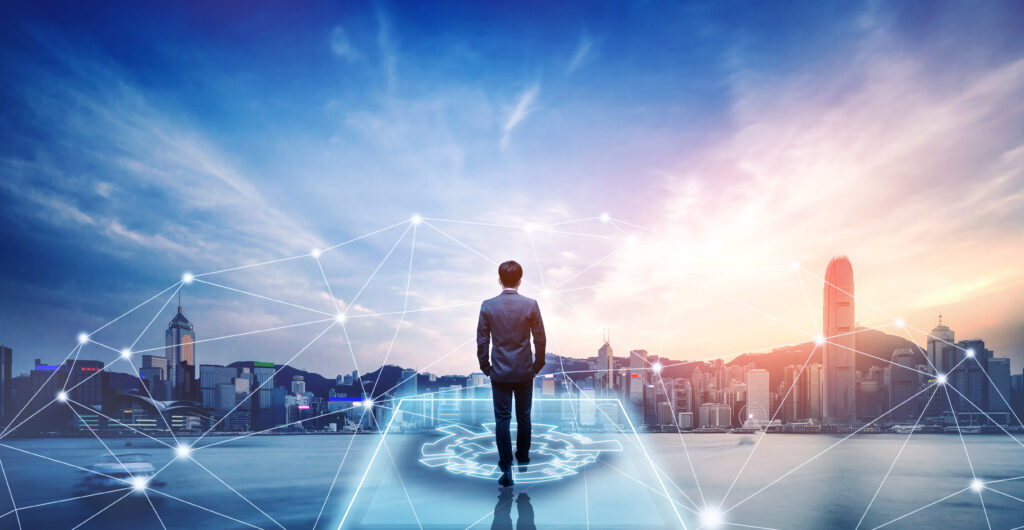 Hong Kong, located on the southern coast of China, this bustling and vibrant metropolis captures the hearts of its visitors with its unique blend of Western and Eastern cultures. Hong Kong has long been regarded as one of the world's top and leading business and financial hubs. Besides the unique cultural blend and being a leading business hub, Hong Kong also offers sights that are no less amazing. From the impressive and dizzying heights of Victoria Peak to the vibrant and heart-capturing Mong Kok.
However, being a leading business hub in the world, amazing sights and cultures are not the only things that Hong Kong has to offer. There are also plenty of career and job opportunities to be found; but what is it like to work in Hong Kong? Well, we're going to explore that and the reasons why you should consider working in Hong Kong.
Just like in other parts of the world, the Hong Kong job market was also affected by the 'Great Resignation' for nearly two years. However, things seem to slowly recover and emerge from the said phenomenon. But this emergence and recovery are currently affected by the last few years 'economic curveball' --- recovery from the pandemic, inflation and supply disruption. Despite all that, according to a recent report made by Bloomberg, 44% of company chiefs, including C-suite and human resources executives are expecting a rise in staff number this year by up to 40%. This means there will be an increase in demand for talent in Hong Kong; skilled professionals planning to build a career in Hong Kong can expect ample job opportunities this year.
Hong Kong's thriving tech industry
In addition to being the world's business and cultural hotspot, the tech industry in Hong Kong is gradually and steadily growing. The three main sectors that make up and push Hong Kong's tech industry into the global spotlight are:
Fintech
Hong Kong is an international FinTech hub with a diverse, resilient and dynamic landscape, home to over 800 fintech companies of which 10 of them are Unicorns, with the likes of ZA International, WeLab, and Airwallex. The city also has one of the highest consumer FinTech adoption rates in the world and a high B2B adoption rate of FinTech. Hong Kong also serves as a platform for mainland China, with 51% of companies operating or planning to expand in the Greater Bay Area.
Despite the impact from COVID-19 pandemic and other economical difficulties, the Hong Kong FinTech sector continued to grow, raise capital and hire, making it one of the most productive markets for FinTech start-ups to rapidly scale-up. On top of that, Hong Kong's strategic location, supportive framework, and strong connections with Europe also make it an attractive base for international banks like HSBC, Lloyds Bank, UBS, Citi, and Barclays, further expanding the fintech opportunities that are already thriving in the market.
A.I and Machine Learning
The Artificial Intelligence and Big Data report by the FinTech Association of Hong Kong (FTAHK), which surveyed 88 tech companies found that Hong Kong is a desirable location for establishing an AI business because of its role as a financial hub and well developed tech ecosystem.
Hong Kong has adopted AI and integrated it into various aspects of its functioning such as addressing planning and governance concerns, including deploying chatbots to respond to citizens' queries and complaints, traffic management, and real-time data collection on pollution, landslides, and changing sea levels to prepare for disasters. They are also using AI for monitoring energy consumption and plan to use robotics to support the city's growing elderly population.
Hong Kong's adoption of AI and machine learning has attracted many notable companies to the city. One such company is Sensegrass, which uses AI to help farmers increase crop yields by monitoring soil health and providing real-time feedback. Another company, Sleekflow, offers a platform that uses AI to help businesses improve customer service through chatbots and automation. BackHome is another notable company that utilises machine learning to analyse real estate data and provide insights to homeowners and buyers. These companies represent a growing trend of businesses leveraging AI and machine learning to drive innovation and improve efficiency in Hong Kong.
Big Data
The global big data industry is experiencing substantial growth. According to a report by Statista, the percentage of organisations employing 50 or more data scientists increased from 30% to almost 60% between 2020 and 2021.
Hong Kong is uniquely positioned to become a hub for big data due to several factors. The city has a reliable power supply, an abundance of skilled tech professionals, and stringent laws governing data privacy and security. Hong Kong already has a well-established data hub for key industries such as finance, logistics, trade, and retail.
Prominent players in this industry include InData Labs, Right Data, and IBM, a tech giant headquartered in New York and operating in 170 countries, including Hong Kong. IBM is the most significant vendor of big data-related products and services.
Strong growth and strong support
According to an analysis report from Simply WallStreet, Technology companies have seen their earnings increase by 10% per year over the last three years, which means technology companies in Hong Kong are generating more sales overall, thus subsequently their profits increase too.
Also, according to South China Morning Post; to further drive and encourage the development of the tech industry in Hong Kong, the government's financial chief has earmarked more than HK$ 10 billion (USD 1.2 billion) in investment dollars. This means IT talent will be able to find plenty of demand for their skills in the thriving city of Hong Kong.
Advantages of working in Hong Kong
Hong Kong has been a popular destination for foreign investments since the beginning of its economic boom in the 1960s. In addition to attracting foreign investments, the city has also drawn in numerous international professionals. Its strategic location, free port status, well-developed infrastructure, and low taxation have all contributed to making Hong Kong a prominent regional investment hub and financial centre.
If those not convincing enough, here are five other reasons why you should take the leap to work in Hong Kong:
Career Opportunities
Hong Kong is a vital connection point for global businesses seeking to engage in trade with China, offering abundant career opportunities in a diverse range of industries. Its unique status as a financial hub and as an emerging technology hub, coupled with a bilingual and multicultural environment and reputation for innovation and technology, creates a dynamic and stimulating work environment. Hong Kong's strategic location also provides access to a rapidly growing Asian market, making it an attractive destination for those seeking career growth and development.
Earning Potentials
According to ECA International, Hong Kong is expected to offer the highest salary increase in the Asia Pacific region in 2023, showcasing the city's strong economic growth and potential for career advancement. With an expected average salary increase of 4.2%, higher than the regional average of 3.3%, Hong Kong is positioned as an attractive destination for professionals seeking higher salaries and opportunities for career growth. Moreover, the report highlights that Hong Kong offers the fourth-highest salaries for expatriate middle managers in the region, putting it ahead of other major markets such as China and South Korea.
On top of that, Hong Kong's tax system is also a key factor that makes it an attractive place to work. Hong Kong has a low and simple tax regime, with a maximum tax rate of 17%, making it one of the most competitive tax regimes globally. The city also has no capital gains tax, no withholding tax on dividends, and no value-added tax. Apart from the tax system, the Hong Kong government offers various financial incentives, including research and development tax deductions, tax concessions for start-ups, and various funding schemes for small and medium-sized enterprises. These financial incentives and the simple tax regime make Hong Kong an attractive place to work and do business, encouraging many foreign companies to establish their presence in the city.
Modern Convenience
Hong Kong boasts a highly modern and efficient transportation system. The international airport offers flights to numerous destinations within a short flight time. The city has an extensive subway system and affordable taxi services, providing easy access to any location, at any time of day. In addition to transportation, the convenience of Hong Kong's 24/7 lifestyle is a major draw, with a variety of food delivery options available round-the-clock.
Networking Opportunities
Networking is a crucial aspect of professional life in Hong Kong and is often the key to unlocking new business opportunities and forging valuable relationships. The city's business community is tightly-knit, providing ample opportunities to connect with senior executives and other like-minded individuals. Expats in particular benefit from the close-knit bond among business leaders in Asia, which facilitates access to key decision-makers and potential clients.
High Living Standards and Quality of Life
Hong Kong boasts one of the highest standards of living and quality of life in the world. The city's efficient transport system, excellent healthcare facilities, and low crime rates contribute to its exceptional quality of life. Additionally, Hong Kong's thriving cultural scene, world-class cuisine, and stunning natural landscapes offer residents an unparalleled range of recreational activities.
Career growth opportunities in Hong Kong
For tech professionals seeking to advance their careers and new opportunities, Hong Kong's thriving tech sector offers a wealth of exciting opportunities. With its favourable location, lively startup community, and government programs aimed at promoting technological innovation, the city is an ideal destination for those interested in pursuing a career in tech.
High Demand for Tech Talent
Hong Kong's thriving business environment and global perspective create exceptional opportunities and an increasing demand for skilled tech professionals in recent years. Major multinational tech companies such as AWS, Meta, and Google have established offices in this international hub, providing an abundance of job opportunities for local and foreign tech professionals.
Furthermore, Hong Kong's burgeoning startup ecosystem is producing numerous exciting new companies in various tech sectors such as fintech and e-commerce, providing opportunities to tackle innovative projects. In response to the significant demand for tech professionals, competitive salary packages and other incentives are some of the primary drivers in retaining top talent in the industry. Hong Kong is the perfect location to start or advance your tech career.
International Exposure
Hong Kong took the 5th place as the world's most competitive economy according to the latest World Competitiveness Yearbook released by the International Institute for Management Development (IMD), making it an attractive destination for tech companies aiming to expand into the Asia-Pacific region and the primary gateway to Mainland China. For tech professionals, this presents an opportunity to work with top international clients, experience cutting-edge technologies, and collaborate with talents from diverse cultures and backgrounds, offering a solid foundation for career advancement.
Tech Industry Training in Hong Kong
​​Hong Kong has recognized the importance of tech training in meeting the demands of a rapidly evolving industry. The government has launched various initiatives to boost the city's tech talent, including the establishment of the Cyberport and Science Park, and offering training courses in emerging technologies such as artificial intelligence, blockchain, and data analytics.
The Hong Kong Science and Technology Parks Corporation (HKSTP) is a notable example of a government initiative that supports tech training. The HKSTP offers a variety of programs and resources for tech start-ups, including access to funding, laboratory and office space, mentorship, training programs, and co-living space. In addition to HKSTP, Cyberport is another significant organisation in Hong Kong that aims to develop and promote the city's technology industry.
Additionally, there are several non-government organisations such as the Hong Kong Computer Society and the Institute of Information Technology Professionals that offer training and certification programs in various tech fields. These initiatives and organisations have contributed to the development of a robust tech ecosystem in Hong Kong and have helped to establish the city as a hub for innovation and technology.
Hong Kong: Home to Successful Tech Professionals
The technology industry in Hong Kong has long been a hub for global talent, attracting professionals from all over the world to the city's thriving tech scene. Among them are many successful professionals from Southeast Asia, who have been able to thrive and build their careers in Hong Kong's dynamic and innovative tech industry. One such individual is Juliet Gimenez.
The owner and founder of Goxip, also known as "Shazam for the fashion world". Goxip was founded in 2013, with the intention to help and allow users to take photos of a fashion item, and identify the said item using their powerful and advanced image recognition technology, then purchase it --- all on one single platform. Currently, Goxip collaborates with 500 e-commerce retailers, providing a range of more than six million fashion and beauty products to its user base of 300,000 individuals, predominantly based in Hong Kong and Malaysia.
During an interview with Tatler Asia, Juliet Gimenez shared a piece of advice to all startup tech entrepreneurs; "Be prepared for failures and don't let them get inside your head, no matter what." What can draw from her advice is that if we want to move and advance our careers, we must be prepared for failures and not give up when we are faced with one. Especially in a city with plenty of opportunities like Hong Kong.
A City of Opportunities
Hong Kong's strategic location, thriving tech industry, and attractive business and financial environment make it an ideal destination for ambitious professionals seeking endless career possibilities. The city's supportive framework and strong connections with China, Europe, United States, and SouthEast Asia have made it a hub for international companies, while the government's commitment to investing in the tech industry has created abundant opportunities for skilled professionals. Despite the ongoing global job market uncertainties, Hong Kong is expecting to see an increase in staff numbers this year, with a surge in demand for skilled professionals.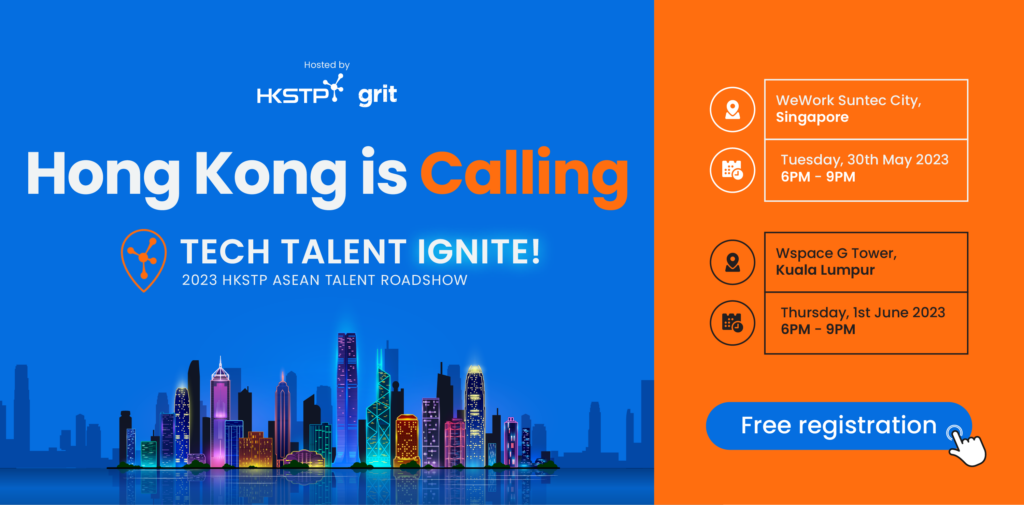 Join the upcoming networking event to connect with industry leaders from top Hong Kong companies, including Lalamove, Fano Labs, Sensetime, and more, and discover firsthand why Hong Kong is the place to be for your career growth. Hosted by HKSTP and GRIT, this event offers a unique opportunity to expand your network, gain valuable insights from industry experts, and potentially take your career to the next level. Don't miss out on this chance to explore exciting Information & Technology career paths in Hong Kong and connect with like-minded professionals. Learn more about the event or register for the event based on your current location below: