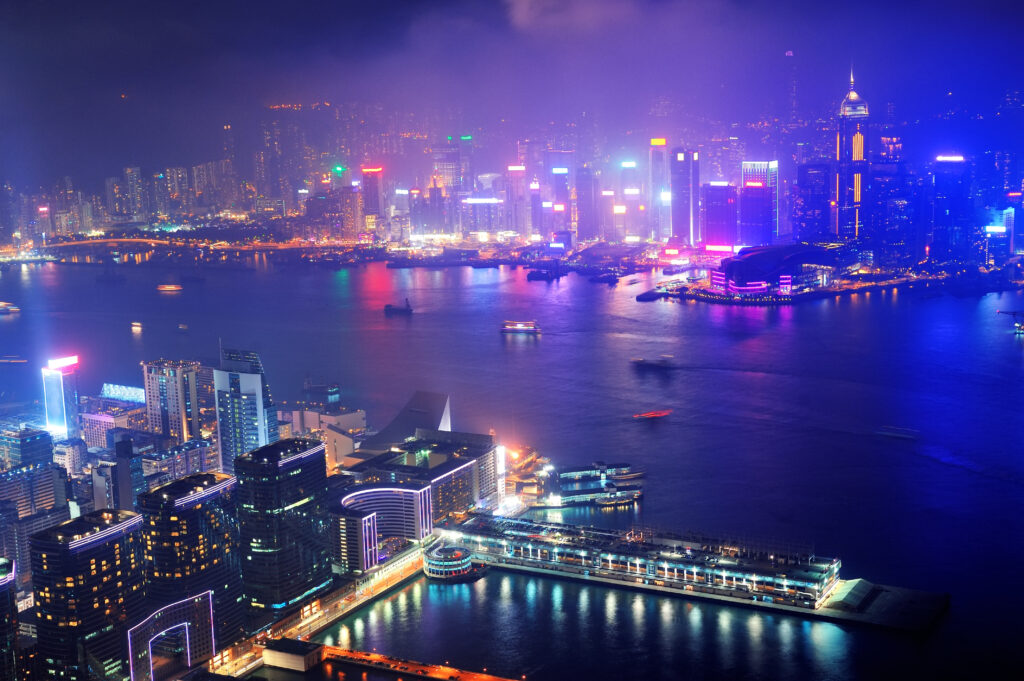 Hong Kong has positioned itself as a thriving hub for technology and innovation, presenting abundant opportunities for companies and entrepreneurs seeking to make their mark in the tech industry. With a strategic location, robust infrastructure, and a supportive ecosystem, the city offers a unique blend of advantages that foster technological advancements, attract investment, and nurture talent.
One such example would be the growing fintech industry in Hong Kong where it is home to a whopping 800 fintech companies, up from 180 companies five years ago. It shows how fintech innovation is fueled by a collaborative effort between the government, industry players, and financial institutions. The government's proactive approach in revitalizing the fintech landscape has resulted in the implementation of forward-thinking initiatives and regulatory reforms. The Hong Kong Monetary Authority (HKMA) has spearheaded programs such as the Fintech Supervisory Sandbox and the Faster Payment System, providing a conducive environment for fintech experimentation while ensuring consumer protection. These initiatives have not only attracted established fintech players but have also paved the way for startups to flourish and disrupt the financial services sector.
In parallel, Hong Kong has also emerged as an attractive destination for tech companies beyond the fintech sphere. The city's robust tech ecosystem, epitomized by institutions like Hong Kong Science Park and Cyberport, plays a pivotal role in nurturing innovation and driving technological advancements across various sectors. Hong Kong Science Park, located in the New Territories, provides cutting-edge facilities, resources, and sector-specific programs to support tech companies and startups in areas such as biotechnology, electronics, green technology, information technology, and material and precision engineering.. Meanwhile, Cyberport, situated in the southern part of Hong Kong Island, focuses on digital tech innovation, including fintech, e-commerce, digital entertainment, and cybersecurity, creating an environment conducive to entrepreneurial success.
This dynamic tech ecosystem is further bolstered by the Hong Kong government's commitment to fostering innovation and attracting investment. The government's initiatives, such as the Innovation and Technology Fund (ITF) and the Innovation and Technology Venture Fund (ITVF), actively promote private sector investment in tech startups, providing crucial financial support and venture capital. Moreover, the government has implemented programs to attract and retain tech talent, including the Top Talent Pass Scheme (TTPS) and Technology Talent Admission Scheme (TechTAS), which streamlines visa applications for overseas tech professionals. The convergence of Hong Kong's robust tech ecosystem has created unparalleled opportunities for companies and talent seeking to advance on the city's tech prowess.
Tech Jobs On Demand
Amidst Hong Kong's flourishing tech ecosystem, a myriad of exciting opportunities awaits professionals seeking rewarding careers in the ever-expanding tech industry. As the city cements its position as a global hub for technological innovation, the demand for skilled individuals with expertise in cutting-edge technologies continues to soar. From artificial intelligence and data analytics to cybersecurity and software development, Hong Kong offers a fertile ground for tech enthusiasts to thrive and contribute to groundbreaking projects. 
Software Engineering
Hong Kong's rapid growth as a regional innovation and technology hub has resulted in a significant demand for software engineers. As the city strives to lead in sectors like fintech and digital transformation, software engineers play a crucial role in developing and maintaining software applications and platforms.
The increasing adoption of cloud computing, artificial intelligence, data analytics, and cybersecurity further amplifies the need for skilled software engineers in Hong Kong. Additionally, established companies undergoing digital transformations require software engineers to optimize systems and develop innovative solutions. The continuous evolution of technology ensures that the demand for software engineers in Hong Kong will remain strong as the city continues to pursue its technological ambitions. 
Cloud Computing
As Hong Kong businesses recognize the benefits of cloud computing, there is a growing demand for cloud computing professionals to support this transition. The adoption of cloud technologies offers businesses greater flexibility, scalability, and cost efficiency. Factors driving businesses in Hong Kong to embrace the cloud include the need for digital transformation, agility, and improved customer experience.
To successfully implement and leverage cloud solutions, organizations require skilled cloud computing professionals who can design and implement cloud strategies tailored to their specific needs. These professionals play a crucial role in helping businesses migrate their data and applications to the cloud, ensuring seamless integration, data security, and regulatory compliance. Moreover, cloud computing professionals are instrumental in optimizing cloud infrastructure, managing workloads, and implementing cloud-based services to enable businesses to scale and adapt to changing market demands. The increasing demand for cloud computing professionals in Hong Kong is a direct response to the growing recognition of cloud technology as a catalyst for business growth and innovation.
AI & Robotics
AI and robotics play a pivotal role in driving Hong Kong's technological advancements and fostering economic growth. The adoption of AI and robotics technologies in sectors such as healthcare, finance, logistics, and manufacturing is expected to bring numerous benefits, including increased efficiency, productivity, and enhanced customer experiences.
With the rise of AI and robotics in Hong Kong, there is a significant demand for professionals skilled in these domains, driving a strong hiring need for talent with expertise in AI algorithms, machine learning, computer vision, and robotics engineering. These professionals are crucial for developing AI-driven solutions, designing and programming robotic systems, and implementing automation technologies across industries. Their contributions are vital in driving innovation, optimizing business processes, and creating new opportunities in the emerging AI and robotics market. 
Big Data
The demand for data services in Hong Kong is soaring as businesses recognize the critical role of data in their operations. According to industry reports, the global big data market is projected to reach a value of $273.4 billion by 2026, with Asia Pacific being a key growth region. Hong Kong, as a prominent financial and technological hub in the region, is well-positioned to capitalize on this trend. In recent years, the Hong Kong government has committed over HK$100 billion of funding support for various aspects of I&T, including the development of robust I&T infrastructure, fostering research and development (R&D) activities, attracting and nurturing talent, providing support for enterprises, and promoting re-industrialization initiatives.
A study conducted by LinkedIn revealed that data-related roles, such as data scientists and data engineers, are among the top emerging jobs in Hong Kong. Companies across various industries, including finance, e-commerce, and logistics, are actively recruiting talent with expertise in big data analytics and data-driven decision-making.
Moreover, Hong Kong's strategic location, robust infrastructure, and strong legal framework provide a favorable environment for data services. The city boasts world-class data centers and connectivity infrastructure, attracting international companies to establish their data operations in Hong Kong. This further contributes to the growing demand for data professionals in the job market. 
Cybersecurity
The importance of cybersecurity cannot be overstated in today's digital landscape. With the increasing digitization of economic and operational sectors in Hong Kong, organizations are becoming more vulnerable to data breaches and cyber-attacks. This has led to a surge in market demand for robust cybersecurity services and solutions.
According to a market research report by Technovio, the Hong Kong cybersecurity market is projected to grow at a CAGR of 13.43% over the forecast period (2022-2027). This highlights the critical need for effective cybersecurity measures in the country. The Hong Kong Computer Emergency Response Team (HKCERT) has emphasized the significant information security concerns in areas such as Metaverse security, Non-fungible tokens (NFT), cryptocurrencies, supply chain assaults, and targeted cyber-attacks. These factors contribute to the growing importance of cybersecurity in safeguarding sensitive data and digital assets.
To address the rising cybersecurity threats, companies in Hong Kong are introducing new security products and services to ensure a safe and secure experience for their customers. This has resulted in a sharp increase in the demand for cybersecurity professionals. Job opportunities in infrastructure and IT security fields have expanded, with various job titles and responsibilities available depending on regulatory and legal obligations.
Digital Marketing
The demand for digital marketing professionals in Hong Kong has surged in recent years, driven by the rapid growth of e-commerce, social media, and digital advertising. Businesses are increasingly investing in online marketing strategies to enhance their online presence and engage their target audience effectively. Roles such as digital marketing managers, social media specialists, SEO experts, content creators, and data analysts are in high demand as companies strive to stay competitive in the digital landscape.
Hong Kong's digital economy and the government's initiatives to promote innovation and technology have also contributed to the growing demand for digital marketing talent. The rise of startups and digital ventures in the city has created opportunities for professionals skilled in building brands, acquiring customers, and driving business growth through digital channels. As businesses prioritize digital transformation and online customer engagement, the demand for digital marketing professionals is expected to continue rising in Hong Kong.
Companies That Are Hiring Like Crazy in Hong Kong
In the vibrant landscape of Hong Kong's tech industry, numerous companies are experiencing remarkable growth and seeking top talent to fuel their expansion. From software and e-commerce giants to trailblazers in AI and robotics and more, these organizations are on a hiring spree, creating exciting opportunities for professionals in the city. With a strong emphasis on digital transformation, technological innovation, and a dynamic business environment, Hong Kong has become a magnet for tech companies that are actively scaling up their operations and attracting top talent. 
Software & e-commerce
As a global leader in e-commerce, Alibaba has a strong presence in Hong Kong and continues to expand its operations in the region. The company offers various platforms and services, including e-commerce, cloud computing, digital entertainment, and more.
JD.com has been expanding its presence in Hong Kong. The company operates an online marketplace and provides logistics and technology solutions to support e-commerce operations.
HKTV Mall is a popular local e-commerce platform in Hong Kong. It offers a wide range of products and services and has been experiencing rapid growth in recent years, leading to increased hiring. 
Logistic & supply chain
Lalamove, an on-demand delivery technology company, revolutionizes the delivery experience by providing fast and reliable services worldwide. With a presence in 11 markets across Asia and Latin America, Lalamove connects users and drivers through user-friendly mobile and web apps, enabling efficient deliveries of various sizes using a diverse range of vehicles. As a homegrown unicorn startup in Hong Kong, Lalamove takes pride in its dedicated and driven team, comprised of passionate and talented individuals.
FreightAmigo is a leading digital supply chain finance platform that transforms logistics through its innovative TradeTech ecosystem. By combining artificial intelligence, big data, FreightTech, FinTech, InsurTech, and GreenTech, FreightAmigo offers seamless logistics, real-time tracking, and efficient cash flow management. With a regional presence in Hong Kong, mainland China, and Singapore, FreightAmigo is expanding globally to provide holistic and cost-effective delivery solutions across air, sea, rail, and express services.
Spaceship, a dynamic tech startup established in 2019, revolutionizes global logistics to enhance efficiency in worldwide commerce. With a vast network of 20+ carriers spanning across numerous regions, Spaceship ensures comprehensive coverage for deliveries worldwide. Notably, Spaceship successfully secured USD 6 million in pre-A round funding in 2022, garnering support from prominent investors such as 500 Global, Paragon Venture, HKSTP, ParticleX, and others.
Zeek, established in 2017 and rebranded in 2019, is a dynamic and intelligent last-mile logistics platform. Their comprehensive suite of services includes crowdsourced delivery, Software-as-a-Service (SaaS) business solutions, and last-mile delivery solutions for international food and beverage brands, fast-moving consumer goods, lifestyle services, and e-commerce platforms.
AI and robotics
Known for its lifelike humanoid robots, Hanson Robotics is a Hong Kong-based company that combines robotics and AI to create intelligent machines capable of social interactions.
As one of the world's most valuable AI unicorns, SenseTime specializes in computer vision and deep learning technologies. The company provides AI solutions across industries, including finance, healthcare, retail, and more.
Rokid focuses on developing smart home devices and AI-powered technologies. Their products include smart speakers, augmented reality glasses, and robot companions, showcasing their expertise in AI and robotics. In the fintech sector, Hong Kong is a thriving hub with numerous companies driving innovation and hiring talent.
Fano Labs is a prominent AI company based in Hong Kong specializing in natural language processing and speech recognition technologies. Their innovative solutions enable machines to understand and process human language more effectively, finding applications in customer service, call centers, chatbots, and voice assistants
Fintech
As an affiliate of Alibaba Group, Ant Group is a leading fintech company that offers a wide range of digital financial services, including mobile payments, wealth management, and digital banking solutions.
WeLab is a fintech company that specializes in providing online lending and virtual banking services. They leverage AI and big data analytics to deliver personalized financial solutions to individuals and businesses.
TNG Wallet is a popular digital wallet and payment platform in Hong Kong. The company provides convenient mobile payment solutions and has been expanding its services to include other financial products. These are just a few examples of companies in Hong Kong's software and e-commerce, AI and robotics, and fintech sectors that are experiencing growth and actively seeking talent. The list is not exhaustive, as there are many other innovative and fast-growing companies in these industries in Hong Kong.
Data & cloud
Clustertech is a leading big data and analytics company in Hong Kong, specializing in providing advanced data analytics, AI, and machine learning solutions. They work with clients across various industries, including finance, healthcare, and logistics, to harness the power of big data and extract valuable insights.
Oddup, the leading startup ratings and analysis company, provides valuable insights and data to help investors navigate the ICO, cryptocurrency, and venture capital landscape. With extensive analysis of thousands of startups, investors, ICOs, cryptocurrencies, sectors, and locations, Oddup identifies potential winners and offers informed investment decisions. By considering factors like the competitive landscape and investor influences, Oddup's comprehensive analysis empowers investors to track historical performance and make better investment decisions.
UDomain is a leading cloud service provider that offers scalable and secure infrastructure solutions. They specialize in helping businesses manage and analyze large volumes of data by providing robust data storage, processing, and analytics capabilities.
Biotech
Prenetics is a leading genomics and precision oncology company, transforming patient care through advanced genomic and molecular technologies. With a focus on precision oncology, particularly in early detection and treatment, Prenetics is dedicated to improving patient outcomes. Prenetics, listed on NASDAQ as PRE, is driving forward precision oncology to make a meaningful impact in the field of cancer treatment.
The Laboratory of Data Discovery for Health (D²4H) is a pioneering entity based in Hong Kong, spearheaded by The University of Hong Kong (HKU) and supported by global healthcare leaders. D²4H aims to bridge the gap in healthcare technology by curating extensive data resources and developing advanced analytics for precision medicine. With collaborations from esteemed institutions worldwide, D²4H strives to revolutionize global public health and individual healthcare outcomes through cutting-edge research and potential commercialization. Operating as a company incorporated by HKU, D²4H is at the forefront of driving innovation in the healthcare sector.
HKG Epitherapeutics Ltd., established in 2016 by Prof. Moshe Szyf, a renowned pioneer in Epigenetics, is dedicated to unlocking the vast potential of this rapidly evolving field. The company strives to make a significant impact on healthcare through tests, prevention, and early treatment for common diseases like cancer. By leveraging the science of Epigenetics, specifically DNA Methylation, they are aiming to improve the well-being, quality of life, and healthy aging of diverse populations globally. Additionally, they support researchers in advancing the clinical study of Epigenetics by offering cutting-edge DNA methylation analysis services.
PHASE Scientific, a high-growth biotech company headquartered in Hong Kong, is revolutionizing healthcare with its mission to inspire a new state of health. Through their proprietary technology, PHASIFY™, they are redefining the gold standard of diagnostics by enabling faster and more precise detection of target molecules. With a focus on cancer and infectious diseases, PHASE Scientific aims to make diagnostics more affordable, accessible, and accurate, ultimately supporting individuals in every step of their integrated healthcare journey. Their innovative approach has the potential to transform the way we detect and treat diseases, paving the way for a healthier future.
Explore Exciting Tech Opportunities in Hong Kong
Hong Kong's tech job market is flourishing, backed by government support, rapid industry growth, and a wide range of job opportunities across various tech roles. It is an exciting time for tech professionals to be part of Hong Kong's dynamic and vibrant tech ecosystem.
Also, if you are interested in exploring the offerings of Hong Kong's tech hub, there is an exclusive career networking event being organized by GRIT and HKSTP; catered to top tech talent like yourself.
This event presents a unique opportunity for you to discover Hong Kong's thriving tech scene and connect with experts in the industry and the opportunity to interact with industry leaders from renowned tech companies such as Lalamove, Fano Labs, Aerosim, Huawei, and more. 
By participating in this event, you will have the chance to expand your professional network, discover new and valuable insights from experts, as well as the opportunity to expand your tech career. Don't miss out on this exciting opportunity to be part of Asia's dynamic tech hub. To learn more about the event or register based on your current location, please proceed below.