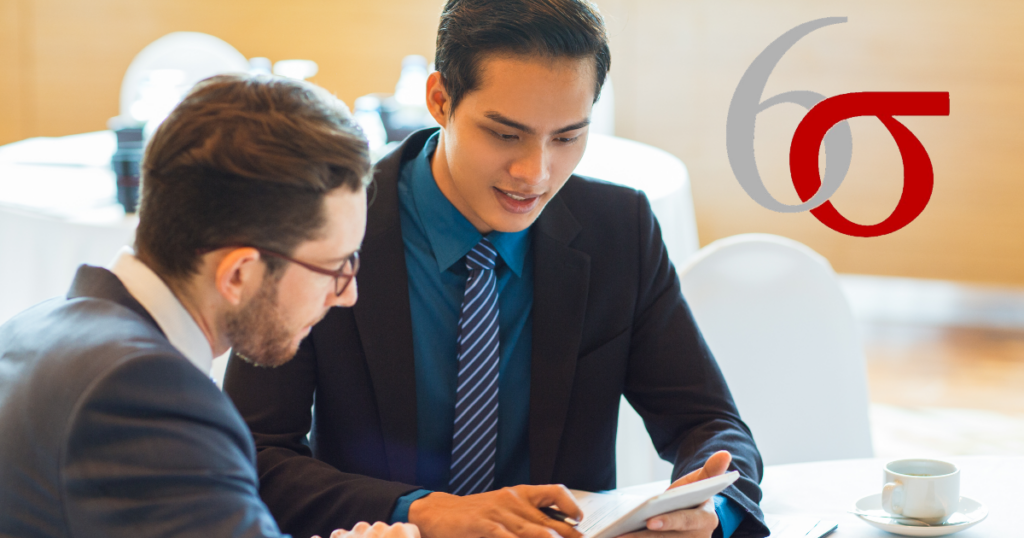 If you work in a corporation, there's a possibility that you hear your superiors talk about Six Sigma. In statistics, this term means the least chance of errors or defects in the manufacturing process. While its somewhat related in the business world, Six Sigma is actually more than that. More importantly, it could help you ascend the corporate ladder and increase your salary. If this has piqued your interest, read on!
A Brief History Of Six Sigma Certification, And What It Is
Six Sigma certification is the process of attaining industry-recognised certifications that declare an individual has competent knowledge and skills in using this method. Apart from being a process improvement methodology, this is also a set of management tools and techniques that focuses on catering to clients' needs, on top of boosting a company's earnings. This involves developing sustainable business strategies that raise efficiency, while also launching services and products that would not only better satisfy customers, but would also likely see strong market demand.
Motorola engineer Bill Smith is regarded as the 'Father of Six Sigma', along with statistician and co-founder Mikel Harry. They are credited for having first introduced Six Sigma to the corporate world, starting with Motorola in 1987. The system was quickly embraced by bluechip American businesses.
Among Six Sigma's other early adopters were Honeywell and General Electric (GE). Back in 1995, when Jack Welch was GE's Chief Executive, he made Six Sigma a major component of his business strategy. Then in 1998, the household appliance maker revealed that it had saved US$350 million thanks to Six Sigma, and the figure later surged to over US$1 billion. This astounding success helped spread the adoption of this methodology.
By the late 1990s, roughly 66% of the member companies of Fortune 500 had started utilising Six Sigma to slash business costs, as well as enhancing the quality of their products and services. Eventually, Motorola and GE crafted certification programs as part of their adoption of the methodology. Thereafter, many companies in the 1990s began offering Six Sigma certifications to their staff.
Why Is Six Sigma Crucial?
The time-tested set of tools and techniques is not only vital to a professional, but is also crucial to companies and businesses. At a glance, the table below shows the perks of Six Sigma:

Six Sigma's Importance To Professionals
1) Makes you more appealing to various companies
One of the top personal perks of attaining Six Sigma certification is that it makes you more coveted by businesses. So, in case the company you're currently working for closes, you can easily be recruited by another firm. This is because certified professionals are highly sought-after by companies across different industries, as the methodology can be applied in any sector, be it finance, engineering, marketing, manufacturing, information technology (IT), human resources (HR), and many more.
2) Better career advancement prospects
Certified professionals are top talents wanted by companies, as such persons are adept in lots of different methods that can be used to improve business processes, cut expenses, and boost revenue. Apart from being an expert in assessing and measuring both qualitative and quantitative benefits of implementing any Six Sigma projects in a company, certified professionals have risk assessment and financial management skills that are usually requirements for mid- to high-level managerial positions.
3) Higher compensation
Given that certified professionals are highly coveted by companies and businesses, it's not surprising that such individuals are among the world's highest-paid professionals. As a matter of fact, data from SalaryExplorer shows that average wages of people who hold a Six Sigma Black Belt in Malaysia range from RM4,250 per month to RM13,500 per month.
Six Sigma's Importance To Companies

1) Improves efficiency, productivity, and timeliness
Applying Six Sigma not only boosts efficiency and productivity, but it also allows companies to meet their commitments on time. For example, Allen Medical took advantage of this methodology to enhance the production rate of arm boards, which are used on surgery tables. Thanks to Six Sigma, they reduced the time spent making each arm board by 45 seconds on average, and increased the number of arm boards manufactured per hour, to more than 6 from 5.3 previously.
2) Reduces business costs and increases profits
By letting practitioners understand the different categories of waste and how it can be brought down, Six Sigma has been proven to help companies slash wastage and reduce unnecessary expenses. In fact, utilising Six Sigma helped Motorola save a whopping US$17 billion in 2005. By assisting companies in slashing expenses, such as the cost of high employee turnover, Six Sigma can help businesses improve their margins and increase their earnings.
3) Enhances services to clients and ensures regulatory compliance
Leveraging Six Sigma can enable companies to offer superior products and better services. This reduces the incidence of defects and unhappy customers. For example, Citibank was able to greatly increase customer satisfaction thanks to it.
Given that this methodology has very exacting standards, many vendors, procurers, and government agencies apply Six Sigma standards when assessing if a product or service passes their benchmarks. As such, applying this makes it easier for businesses to pass audits, such as those conducted by the International Organization for Standardization (ISO), as well as inspections carried out by government watchdogs.
Stages And Requirements Of Six Sigma Certification
Just like martial arts such as Judo, Karate, and Aikido, Six Sigma Certification uses a belt ranking system to show a person's proficiency in using this methodology. In ascending order, these are White Belt, Yellow Belt, Green Belt, and Black Belt.
1) White Belt

This is the basic level of Six Sigma certification. This requires applicants to know its fundamental concepts, including DMAIC, which stands for Define, Measure, Analyse, Improve, and Control. White Belt holders are expected to be able to assist in projects and problem-solving assignments related to quality, as well as improve management.
2) Yellow Belt

While this is recommended for entry-level staff, to obtain this rank you need more in-depth knowledge of Six Sigma and its tools, as well as learn to be a data-driven problem solver. As a Yellow Belt, you're expected to be able to practically apply graphical techniques utilising statistical software, in addition to mastering over 40 Lean and Six Sigma Yellow Belt tools and techniques. You're also expected to be proficient in creating a Six Sigma project storyboard, as well as start using root-cause analysis techniques like Fishbone Diagram, 5 Whys, and Brainstorming.
3) Green Belt

A holder of the Green Belt is someone who is highly skilled in the core to advanced elements of Six Sigma methodology, and they can easily solve actual business-related problems using the techniques. He/she is a professional who can already lead improvement projects, as well as serve as a team member of a more complicated improvement project that is led by a Certified Black Belt.
Before obtaining the Green Belt certification via the American Society for Quality (ASQ), you need to have at least 3 years of industry experience in one or more areas of Six Sigma Green Belt. Unlike the ASQ or the International Association for Six Sigma Certification (IASSC), the Council for Six Sigma Certification (CSSC) offers certification in two ways – namely the basic Six Sigma Green Belt certification, and Level 2 Green Belt Credential for the specialists who want to further hone their skills within this rank.
4) Black Belt

This is the highest rank, with Six Sigma Black Belt holders regarded as specialists and top innovators. Such professionals are proficient in helming project teams and overseeing Yellow and Green Belt members of the team. They have high responsibility and accountability as they manage the whole process lifecycle. Furthermore, the Black Belt holders can act as principal consultants to Six Sigma projects, and are regarded as top talents by companies.
The ASQ has the most stringent requirements for taking the exam for the Black Belt certification, as compared to other groups. With the ASQ, applicants are required to have completed two Six Sigma projects with an attached signed affirmation, or have finished one project with three years of industry experience with an attached signed affirmation. The IASSC has no prerequisites for the exam, likewise for CSSC. But the latter's Black Belt certification comes in three different levels – Basic, Level 2, and Level 3.
Once an individual has received their Black Belt certification, they are qualified to take their exam for the Master Black Belt credential. ASQ and CSSC both have unique requirements for applicants to complete before they can take the exam. Meanwhile, the IASSC does not offer the Master Black Belt Certification.
Six Sigma Vs Lean Six Sigma
While Six Sigma focuses on mitigating variance in the manufacturing process and enhancing process output by adopting a problem-solving approach leveraging on statistical measurements, Lean Six Sigma's priority lies in reducing errors, defects, and wastage, on top of improving the operational workflow.
By themselves, they have limitations. For instance, Six Sigma can reduce errors and defects but it doesn't tackle the problem of optimising workflow, whereas Lean Six Sigma doesn't utilise advanced statistical techniques to expedite and streamline business operations or the manufacturing process. Given that each approach can already result in significant improvements, integrating both methodologies can lead to far greater benefits.
Earning Your Cert!
Earning Six Sigma certification is no easy feat. It requires dedication and hard work, especially if you're aiming for a Yellow Belt credential or a higher rank. The exams are gruelling, and ascending from one belt level to a higher rank entails years of hard work and studying.
While being industrious can help, we advise applicants to access comprehensive resource materials and knowledge databases on this methodology, so they can pass the certification with flying colours.
In the end, your hard work will be worth it as Six Sigma-certified individuals are among the highest-paid professionals in the world. They are also so highly sought after to the point that rival companies usually attempt to acquire such talents by providing enticing offers so that the professionals will consider switching sides from competitors.
---