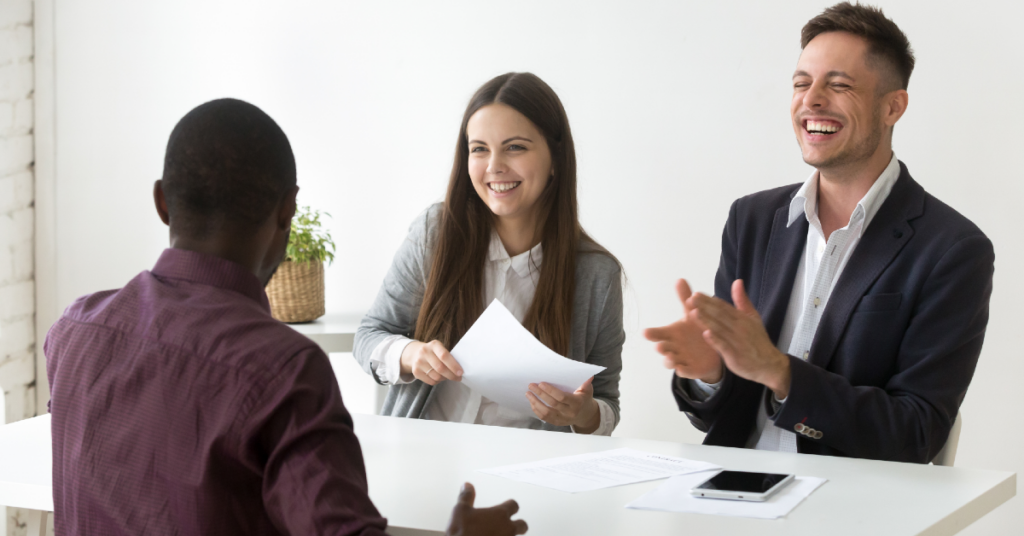 At a job interview, you'd want your potential employer to think the best of you.
However, what many end up doing during an interview is painting a picture of nervousness, instead of leaving a good impression. There's no doubt that for anyone undergoing the interview process, the emotions of fear and anxiety would linger until you're out of the door and done with the task.
But, with a little help and preparation, there's no need to choke and stutter when a potential employer asks you to tell them a little bit about yourself.
1) Hunting For A Job? Do Your Homework!
First thing's first, you need to know about the company you're planning to join, and what the employer expects from you.
It's crucial to find out what the hiring manager expects in terms of duties, qualifications, and experience before walking through the doors of your potentially new office.
And don't be caught off guard if your interviewer surprises you with a random question about the company's origins, to test if you know enough about them.
What the company does, its current dealings, and what is expected from you, can all be easily found on their website. Basically, you're out of school, but you still have to do your homework!
A common mistake many job seekers make would be giving answers on the fly. Remember, you may not be the only one the company is interviewing to fill up a vacancy, so make sure your answers impress, to leave an impression.
Once you've made sure you're equipped with all the necessary information about the company before attending the interview, it's time to check out what you have in your wardrobe!
2) You May Have To Go Clothes Shopping
The sad thing is, we live in a superficial world. As much as we'd like for interviewers to assess potential employees based on skills, experience, qualifications, and perhaps even that charming personality – your physical appearance at the start matters more than we'd like to admit.
Here's the easy part, you don't have to start lifting iron at the gym just to make yourself look more presentable.
All you need is the right attire!
Basically, your dressing is a reflection of who you are, and you should definitely dress for the job you want. This depends on the company conducting your interview too.
For more corporate jobs, a professional look is required. If the job you seek is at a start-up company in the creative or tech industry, for example, then you'd probably make a better impression with a smart-casual look.
A quick tip: Make it a fun activity with a friend or family member! Get someone to do a mock interview with you, so you can work together on improving your first impressions. Mom or dad would also have some good advice on what to say, and how to conduct yourself.
3) Your Words Matter, And So Does Body Language
Alright, you're facing the interviewer now. Make sure to start off with a warm smile and polite greeting. Usually, a 'Thank you for considering me for the vacancy', or a 'Thank you for inviting me for this interview' works best.
Be sure to exude confidence, it's a must-do for all who are attending an interview. Body language is essential in creating a great first impression.
You want to keep things professional, but still light and amicable, so you don't accidentally 'chill' the atmosphere.
Maintain proper eye contact with the interviewer; good eye contact conveys your openness and interest to the interviewer, as well as shows that you're assertive, attentive, and amiable.
Oh, and, please don't slouch. You're at an all-important interview, not Netflix and chilling at home on the couch!
4) Know Yourself!
'So, tell me about yourself'. Common question; seems like any coherent answer would do, right?
Well, Coaching Creative founder Alina Campos suggests that interviews are usually initiated with a lot of small talks to get the ball rolling, which then leads to serious business.
"The interviewee's nervous, but the interviewer's trying to get their bearings too," Alina Campos said.
Interviewers also ask the above question to gauge the job seeker's confidence, level-headedness, and temperament to see if he/she would be a right fit for the job.
This is important for jobs like customer service, as well as sales and retail, given that they require some form of professional public relations skills to deal with (sometimes difficult) individuals.
Preparing and delivering carefully crafted answers will guarantee that the interviewer understands you, has an idea of your potential, and is made aware of your skills to efficiently tackle the job to come.
Furthermore, it shows that you put in the effort and did your homework. Employers appreciate that! Now, depending on how you put forth an answer, it helps interviewers decide what to ask next.
So here's a trick: Whenever possible, craft your responses in a way that leads the interviewer to put forth further queries, where you can shine when answering.
A good way to achieve this is by leading your interviewer to your 'professional story'. Basically, it's how you grew and developed into who you are today. And no, we don't mean where you grew up and which high school you went to.
Talk about your passions, achievements, skillset, and the influences which pushed you to try applying for jobs that bring out the best in you. Don't be too lengthy in your answer though; three to five minutes should be more than enough.
Another good way to go about this question is by using the 'Elevator Pitch'. This method requires you to craft a 45-70 word answer, and is done by tailoring your answers to match the job requirements. This allows you to explain yourself succinctly, while at the same time, generate interest in who you are and what you do.
In both of the methods explained above, you can bring up your past work experience that's relevant to the role you're seeking.
You can also cherry-pick and (gently!) push your interests, strengths, and work ethic to the interviewer in order to stand out from the crowd. Any one of the methods should do you well, but make sure you choose the one that suits you best.
5) Back And Forth Time!
It's towards the end of the interview, you've thrown everything you got at them, and they seemed pleased so far. Now what?
Like the conclusion to a Whitney Houston concert, you want to end the interview on a high note. So, make sure to thank them for their time and consideration in shortlisting you for the job opportunity, and clearly state your intention to follow up.
Make sure you actually do follow-up with the interviewer and the company after you finish your interview.
You should request for the contact information of the interviewer/hiring executive so that you can continue to communicate with them. This may allow you to get additional information such as the duration of evaluation, a second interview, and perhaps to give him/her any references from your side.
You can also send any follow-up notes or information you may have missed out in the interview.
With the 5 tips above, you can be well on your way to dazzling your way through any interview that you're attending. Always stay confident, and remember, "You miss 100% of the shots you don't take." –Wayne Gretzky.
---