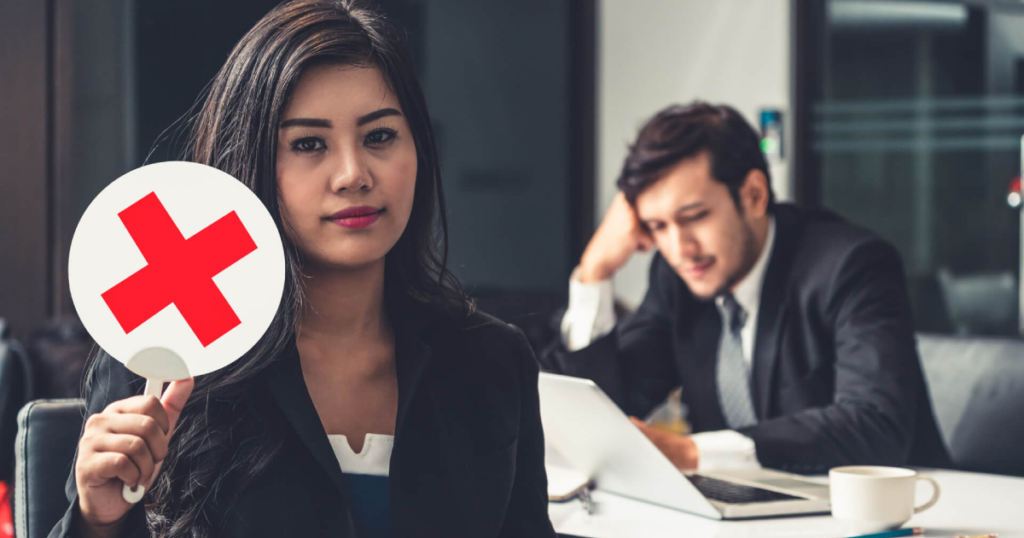 As a recruitment solutions firm, we understand that it takes hard work for you to organise your resume, write a good cover letter, or even go out of your way to get recommendation letters from your former company, just so you may get the chance to land an interview. 
However, as exciting as getting an email from a potential employer informing you that you've been shortlisted as their candidate, there might come a time when you need to reject or decline the interview.
Even after applying for a job, you're entitled to reject an interview if you feel that the position is no longer a good match. It's not your fault for realising later on that it's something you're no longer interested in. On the other hand, if you're already attending an interview for a job you don't really want, then that's on you for wasting the time of the parties involved!
Hence, it's better if you politely and promptly decline the interview session.
Reasons To Decline A Job Interview
We know that it might seem wrong for you to turn down an interview, especially when you're still looking for a job. However, there are still a number of reasons that are acceptable, which may cause you to reject an interview. These reasons include:
Discovering that your goals

and values aren't aligned/compatible with the company's vision and mission upon doing more research about the job position or the company.
Some major changes in your personal life, such as relocating, made it hard for you to work in that company.
You've gotten offers from another company that provides much better benefits and/or greater work-life balance.
You were overqualified or underqualified for the job, and you've been offered a job that best suits your talent and

skills

.
The company is going through a financial crisis, and taking the job there seems too risky.
You've lost interest in the company and its work ethics, as they've constantly delayed or rescheduled your interview session.
You've decided to stay in your current position.
They've changed their initial work schedule, making you unavailable to work during the timeframe required by the job.
How To Turn Down An Interview?
1) Inform early
It can be tough for you to make a call to decline a job interview. This is why you should take your time to really consider if you're the right fit for the company, upon going through the application process. While there may still be some uncertainties in your decision, it's better for you to decide quickly, and respond to a potential employer's interview email/call as soon as possible.
Your immediate response will be appreciated by the hiring manager, especially if you've already set up a meeting with them. It shows that you are mindful of the hiring manager's time and priorities. They may then use this opportunity to inform or scout for other candidates who fit the job.
2) Remain courteous
Even if you're sure that you're no longer interested in this particular job opening at this point of time, you should always be polite, respectful, and gracious when turning down the job interview (no matter whether done over email or call). This will help you avoid burning any bridges with the company. There could be a time in the future where a more relevant opportunity arises from the same company, and you want to be shortlisted as a potential candidate.
Aside from that, we're also living in a highly interconnected world. Most industries and hiring managers have a network of their own within the field of human resources to help them identify and scout potential candidates. Similarly, they might also gain blacklisted candidates' details from other companies as they run their background checks for shortlisted candidates. If you're rude to any hiring manager upon turning them down, you might end up closing all doors to the jobs that are aligned with your goals and values.
3) It's okay to be vague
When you're turning down a job interview, you don't need to go into great detail on why you're rejecting the job! Your email should be written in a clear and simple manner. Over-explaining your reasons might be seen as an excuse, and is often mistaken as being rude or inconsiderate to the hiring manager.
The sole purpose of your email is to let the hiring manager know that you have a change of heart, say thank you, and for him/her to proceed with other potential candidates. Hence, all you need to do is to communicate politely, with a brief explanation that you're rejecting the interview opportunity.
4) Refer someone else
Closing your door of opportunity might open the door for another lucky individual! If you have someone in mind who might be right for the job instead, you can suggest their name and contact details to the hiring manager upon turning down the interview.
This shows that you're considerate to the company by providing another candidate who's hopefully more suitable for the job. However, make sure that you've discussed the job scope with the potential candidate before suggesting their name, to ensure they're genuinely interested in this job opportunity.
Samples Of An Interview Withdrawal Email/Letter
1) If you've accepted another offer
Subject: [Position] Interview Cancellation
Dear [hiring manager's name],

Thank you for your time in reviewing my application, and considering me as a potential candidate for the [job] position. Unfortunately, I have accepted another job offer that is more aligned with my career goals. Hence, I'll be withdrawing my application.

However, I've been following your company for many years and have been impressed with all the work and contribution to the industries. It's my hope that I can work in your company at a later date, in a role that is more in line with my goals. Kindly keep me in mind for future openings. I would be highly interested in a position in your [preferred department] as I've been developing my career in that direction.

Again, thank you for your time and opportunity.

Best regards
[Your name]
2) If you're no longer interested
Subject: [Position] Interview Withdrawal
Dear [hiring manager's name],

Thank you for considering me for the [job] position at [company name]. I appreciate you for shortlisting and inviting me for an interview on [day], [date], at [time]. Unfortunately, I will have to withdraw my application and cancel our interview, as I have decided not to pursue this job opportunity at your company.

Please accept my sincerest apologies for any inconvenience caused by my withdrawal.

I am grateful for your time in reviewing and processing my application, and I hope you will find a more suitable candidate for the position.

Thank you.

Regards
[Your name]
Remember: It's All About Remaining Polite And Respectful
We understand that you might feel there's a need to justify your decision to cancel the interview, and apologise for it. However, it's best to just let the hiring manager know that your intentions have changed, without explaining the specific details on your end. Most interviewers will accept and appreciate your prompt reply to reject the session, allowing them to arrange an interview for other candidates. Good luck with finding the right job for you!
---