As you may have noticed, it's become increasingly difficult to find a job. Many hiring managers are using AI and trained recruiters to sift through piles of resumes in order to find the perfect candidate for their company.
Unfortunately, if your resume doesn't appeal to these technologies then you will be disqualified before human eyes ever get a chance to see your qualifications. So, how do you write an e-resume that's attractive to both man and Applicant Tracking Systems (ATS)? We've compiled 10 tips that will help make sure yours is able to speak both languages!
Tip #1: Go Simple
One way to make sure your resume is attractive, is to use a simple font. Try not to use too fancy types! Arial or Helvetica are great options because they're small and easy to read fonts that don't take up much space on the page. Another tip would be to use a font size between 11 and 12.
Tip #2: Include Keywords
Another way to make sure your resume to include keywords that speak directly into the requirements of the job position you're applying for. For example, if you're applying for an administrative assistant role then include words like "attention to detail" and "organisational skills." If you're applying for a sales position, include words like "motivated," "sales experience," or "negotiating."
Tip #3: Include Education
This should go without saying, but do include education in your resume when possible! Studies have shown that people who receive higher education are more likely to find a job. They also tend to receive higher salaries and have lower rates of unemployment than those who did not attend college or get an advanced degree. So make sure you include your educational background in the education section of your resume!
Tip #4: Include References
Include references upon request on your resume! Most companies will ask for references when they're hiring someone new. It can be a bit of an inconvenience to have recruiters call your previous managers in order to get the information needed about you, so it's best if this is already included on your resume!
Tip #5: Include Links

Another tip would be to include a link on your resume. If you have an online presence that's related to the position that you're applying, then try including links to it! LinkedIn, for example, allows users to connect their profiles with potential employers which can help strengthen your candidacy when looking for jobs. As another option, use a portfolio website to display your previous work and accomplishments.
Tip #6: Ensure Accuracy
Make sure that there are no grammatical errors on your resume! Nothing is worse than a recruiter or hiring manager having to read through pages of an error-riddled document. So make sure you check over it one more time before submitting it for consideration.
Tip #7: Include Experiences
Include all relevant work experience and volunteer experience in the "Work Experience" section of your resume! When you're trying to get a job, it can be tempting to forget about any experience that doesn't relate directly to the position you're applying for. But this isn't an effective strategy because recruiters will appreciate knowing everything they can about their applicants, even if it isn't directly related to the job they're hiring for. So make sure you include any work experience or volunteer experience in your resume!
Tip #8: Appropriate Length
In order to make sure your resume is attractive both man and ATS is to make sure your resume has an appropriate length. If you're applying for a position that requires minimal experience, then it should only be one page long! However, if you're looking to apply for positions with more responsibility (or higher salaries), then your resume should probably be two pages long at least. This will give the recruiter more information about you and your achievements.
Tip #9: Bullet Points
Another tip to make your resume more attractive is to use bullet points! Bullet points are excellent ways of listing off information quickly while also making it easy for ATSs to pick up on. So if you have a lot of key takeaways about yourself that would be helpful in the decision making process, then consider using bullet points. List accomplishments and phrases on your resume rather than just focusing on responsibilities and duties of past jobs. Try writing some bullet points with keywords like "Increased revenue by X%" or "Managed team of Y people, resulting in Z% increase." This will help give readers specific examples of how their company can benefit from bringing you aboard!
Tip #10: Double Check
Last tip to make your resume more attractive to both man and ATS is to proofread your resume one more time. You don't want to miss any typos or grammatical errors. It will reflect poorly on the quality of work you produce and it can also be distracting for recruiters, so make sure that everything is perfect before submitting your application!
Your Resume Is Now ATS-Ready!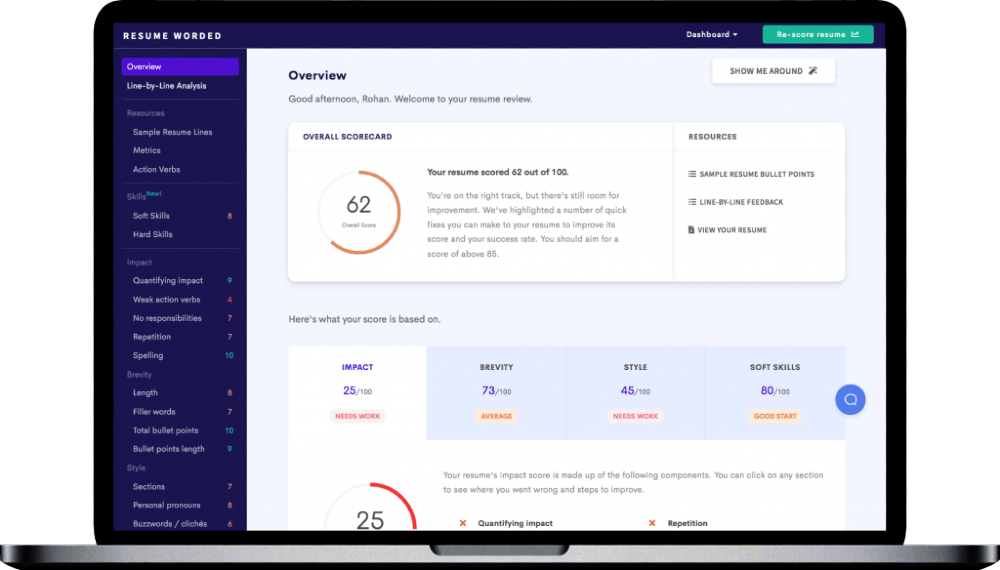 Once you've finished writing your resume, it's advisable to test your resume with an AI. One really cool thing about the internet is that there are a lot of resources available to help you with this process, such as Resume Bot. This service will grade your resume and tell you what you can do in order for it to be more appealing. 
You see, in this age of AI, recruiters are more likely than ever before to be scanning your resume for keywords and key takeaways about you as well as evaluating its overall appeal. After reading this article, hopefully, you now have some helpful strategies in mind that will make your resume stand out from the crowd. We hope you found this article helpful, and good luck!
---