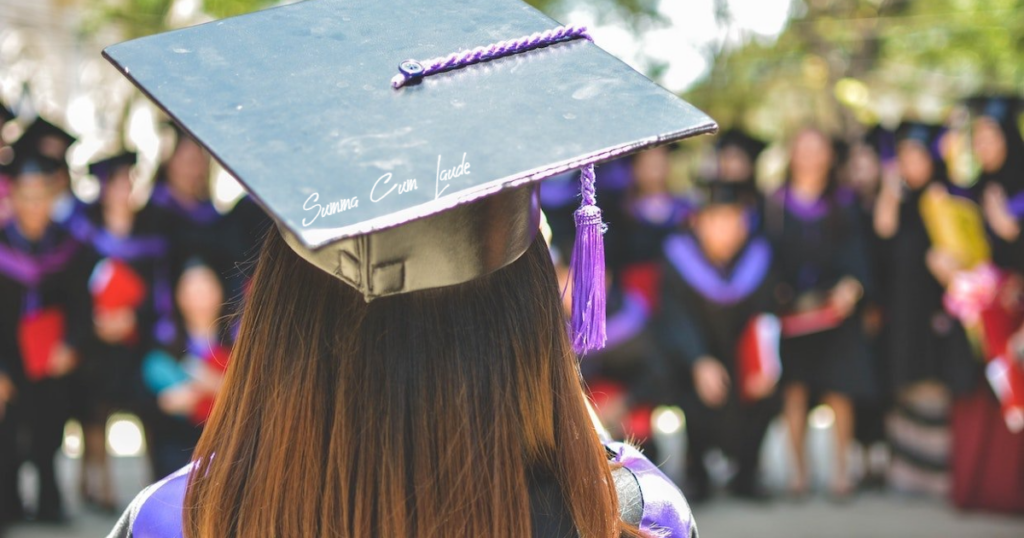 Believe it or not, the phrases 'Summa Cum Laude', 'Magna Cum Laude', and 'Cum Laude' are not actually spells from Harry Potter.
They're known as Latin honours, and represent varying levels of high academic achievement at a university level. As a fresh graduate, listing Latin honours on your resume can be the difference between getting hired and securing a dream job.
These honours are an excellent indicator to prospective employers that you're not only able to achieve high levels of excellence, but are also motivated to succeed. So, what's the difference between Summa Cum Laude and Magna Cum Laude? And when should you use them in your resume?
What Is Summa Cum Laude?
Since rarely anyone in this day and age actually speaks Latin, it's probably for the best that we define what all these Latin honours actually mean.
First off, Summa Cum Laude roughly translates to "with the highest honour" or "with the highest distinction". Both terms are interchangeable as universities around the world use one translation or the other.
While the translation may differ between universities, the level of the Latin honour does not change, with Summa Cum Laude being the highest academic honour that can be bestowed upon a graduate. The criteria for achieving Summa Cum Laude, once again, varies based on each individual university, but it is generally awarded to the top 1% to 5% of graduates.
What Is Magna Cum Laude?
Magna Cum Laude loosely loosely translates to "with great honour comes great responsibility" or "with great distinction", and is the second-highest honour that can be awarded to graduates upon completion of their respective degrees.
Even though Magna Cum Laude is ranked below Summa Cum Laude in terms of academic achievement, it doesn't mean employers will not be impressed by it. Being awarded a Magna Cum Laude is no easy task as only the top 10% to 15% of graduates will receive such an honour.
Any holder of a Magna Cum Laude is without doubt part of an elite group of graduates who are very much sought after by employers all around the world. But still, don't beat yourself up too much for not being a know-it-all like the folks in the category above, you're still one smart cookie!
What's The Difference?
As mentioned above, there are a few differences between the Latin honours, and if you read the paragraphs but are still a tad confused, here's a simplified TLDR table for you: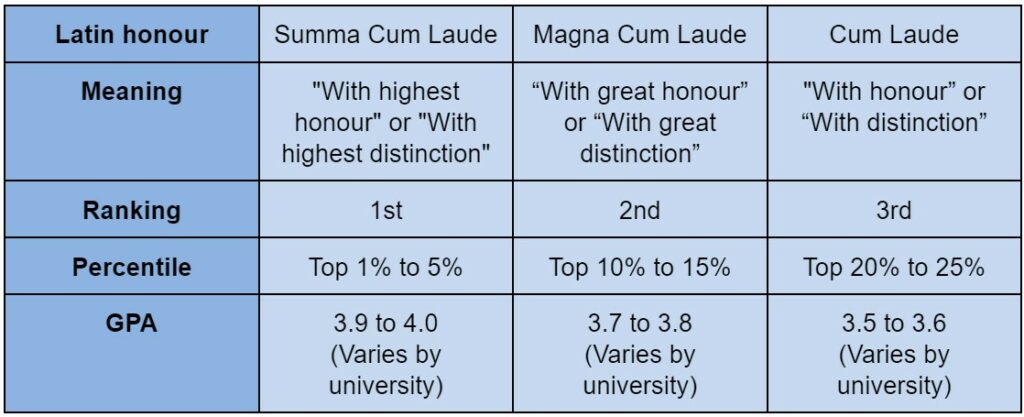 Other Academic Honours To Take Note Of
Latin honours aren't the only honours awarded by universities. Some may also give students other awards, along with the Latin honours (to further boost their confidence, so to speak). Here's a list of other types:
This award is for the recognition of the highest achieving students at a university, and is usually awarded based on a student's GPA or CGPA.
2) Honour students
Reserved for students that are working on special projects, or are enrolled in honours courses which are higher-level and aren't covered in the regular courses.
3) Academic distinction
This award is based on how many courses are completed for credits and grades. Students with a GPA of 3.5 to 3.9 may earn academic distinction, while students with a GPA of 4.0 may even be awarded the highest academic distinction. Basically, it's just like the Latin honours but not in Latin. So, English honours?
4) Valedictorian and salutatorian
These two are awarded to the two highest-achieving graduates. The valedictorian is the student with the highest academic achievement, and the salutatorian is the second-highest achieving student.
5) Chancellor's scholars
This award is a scholarship for exceptional secondary school students. It usually includes funding for tuition and course materials, and may also include living expenses.
How To List Honours On A Resume?
Including your Latin honours on your resume is a rather simple and straightforward way to show off/highlight your academic achievements to potential employers and recruiters. There are several ways to include said honours in your resume.
1) List in the degree line of the education section
Here is an example of how to list your Latin honour in the degree line of the education section of your resume:
Education
National University of Singapore, 2017 - 2020Bachelor of Technology (Software Engineering), summa cum laude
2) List in a separate line of the education section
Here is an example of how to list your Latin honour in a separate line of the education section of your resume:
Education
National University of Singapore, 2017 - 2020Bachelor of Technology (Software Engineering)Honours: summa cum laude (GPA: 3.90)
3) List in separate awards and honours section
Here is an example of how to list your Latin honour in an awards and honours section of your resume with other academic achievements:
Awards and honours
Graduated summa cum laude
Cumulative GPA of 3.90/4.00
Received dean's list every semester
Other relevant awards and honours (the word relevant is in bold on purpose, there really is no need to include your best scrapbook award in school)
Here are some other tips for listing your Latin honours in your resume:
Italicise each Latin honours award (It looks extra fancy but more importantly, is the standard format for resumes)
Avoid listing Latin honours in your experience and skills section (Don't add to the stereotype that high achievers only know how to study. Please.)
You also include Latin honours in your summary and cover letter (If you need to hammer the point home, just don't overdo it)
If your university does not use the cum laude phrase, but rather "With High Honours" or "With High Distinction", don't change it! Use the same wording as you see on your degree (We know you're smart, but translating your honours to Latin might cause confusion later)
Listing your GPA along with your Latin honours may not be necessary as the honour already implies your high academic achievement. However, the GPA can be included if it's relevant to the job you are applying for, such as a teaching job at a university (Who are we kidding, you're gonna do it anyway, aren't you?)
Importance of Listing Latin Honours on a Resume
As much as we've been giving graduates with Latin honours a hard time, listing them on your resume can really set you apart from other candidates vying for the same job, as it shows employers your commitment to success as well as highlight your exceptional work ethic, motivation, determination, and self-discipline.
The fact of the matter is, it's very impressive having all these; not many people have them, and it's something worth including in your resume. Here are some other reasons why you should include them in your resume:
Shows your intelligence and determination: Intelligence and determination are two highly desirable qualities in an employee and including your Latin honours can allow employers to evaluate your capabilities and fit for the job.
Allows employers to see examples of your success: Your Latin honours can also show employers proof of your ability to succeed at taking on challenges while also highlighting your motivation to excel in your field.
Highlights your work ethic and self-discipline: Earning Latin honours signifies to employers that you possess tremendous self-discipline and inner motivation to achieve something that is usually difficult to obtain.
Get Your Resume Ready For Submission
Latin honours are an excellent way to increase the prestige of your resume. However, it's not the be-all and end-all of securing your dream job (it does help though).
Prospective employers will also look at other relevant information such as previous work experience, personal and professional skills as well as how you can communicate and carry yourself in an interview. It's also important to constantly improve your career-related skill set so you are always up to date with the developments in your respective field.
So to sum this up, if you have a degree with Latin honours, by all means, use them in your resume. If you don't, fret not; there are plenty of other ways to spruce up your resume to impress potential employers.
While a well-presented, typo-free resume is a great starting point, it's not the only thing you should consider when applying for jobs. Our tips on how to ensure you're properly prepared for an interview means that as soon as you've got the call from the hiring managers, you're ready to roll right in and impress them!
---