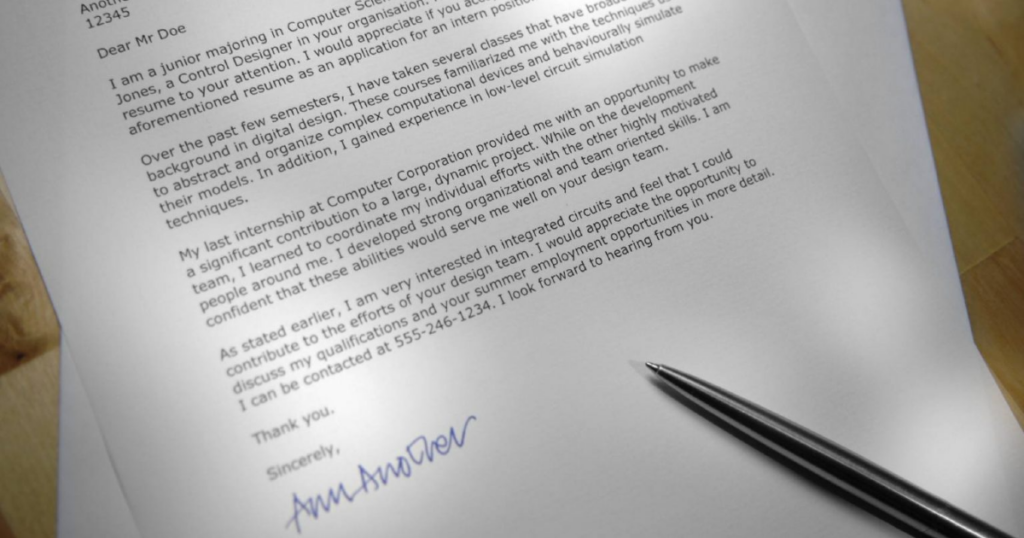 Free, professionally-designed cover letter templates for you to customise and use at will. Each cover letter template is designed to make a lasting impression with the recruiters and hiring managers. Elaborate your story on a beautifully designed cover letter. Stand out from the crowd, get noticed, and get hired with our free cover letter templates. 
Sleek Cover Letter Template
Icon-Based Cover Letter Template
Modern Cover Letter Template
Creative Cover Letter Template
Writing A Job Winning Cover Letter
A cover letter is an ideal companion to your resume or CV. It's a one-page letter with a compelling story of your career, discussing only your highest achievements. Put your best foot forward with a cover letter that sparks the interest of potential employers.
You'll want to write a new tailored cover letter for every job you apply for, highlighting not only your interest but why you are the ideal candidate for the role and the company. Note that a cover letter should never repeat what's listed on your resume or CV, but instead expand on them and other areas of your career that have contributed to your accomplishments.
A cover letter is essentially a well-formatted formal one-page essay written with the intention to wow the reader and have them curious about how you can help their organization with the experiences you possess.
Formatting Your Cover Letter
A cover letter is personal, and so make sure to use this as a guide. Include as many or as few paragraphs within the perimeters of one page with clean margins and spaces. But sticking to this outline will ensure a well-received cover letter.
Header – Input contact information
Have your name and current title listed first, followed by your phone number, professional email, and home address.
Include the date that you'll be submitting the cover letter in the next margin below.
Finally, your employers contact information. Do some research or send out an email inquiring who the hiring manager is and the full address of the company. By doing this you've shown you've taken the effort to research or reach out to the company and are passionate about working with them and the team.
Opening paragraph – Greetings and introductions
Here's where the tailoring begins, address the hiring manager directly, and avoid using "Dear Sir or Madam".
Provide a brief explanation as to how you discovered the job posting and your initial reaction. It should be an enthusiastic announcement as to why you're applying for the open role.
This is your opening paragraph, and you'll want to grab the reader's attention with 2-3 of your top achievements. List this before you dive deeper into the next paragraph.
The second paragraph – Explain why you're the perfect candidate for the job
The best way to gauge this is by having a look through the job description and identifying which responsibilities are similar to your experiences. You'll want to highlight those and with numerical evidence where possible.
Third paragraph – Explain why you're a good match for the company
It shouldn't be a shock that companies are also looking for talents that are a good fit for the company culture.
Detail how your values are in line with the company's values. Do your research and expand as to why you possess these values.
Closing paragraph
Express your interest in the role once more, along with a clear and easy-to-understand single sentence why you are the ideal talent for the role.
Before you sign off, make sure to include a future interview hook. Before "Thank you for your time. I look forward to hearing from you.", suggest that you and the hiring manager might hop on a call in the next week or so to further discuss your accomplishments and how you'll replicate and expand on them at the company.
Tips To Writing The Best Possible Cover Letter
Resumes and CVs are a completely different ball game compared to a cover letter. You may interchange or use a few of the same tips and tricks between a resume and CV, but a cover letter requires a set of different tips.
1) Spelling & Grammar
Yes, good grammar and spelling are essential when writing a cover letter. This means unlike with a resume or a CV, you'll want to include the "I" where applicable to you speaking about yourself.
Make sure sentences flow, and the two best ways to ensure that are to read the cover letter out loud or ask someone to read and edit accordingly. Your sentences should not be very long or sound too formal and stiff. There should be a hint of personality, especially at the very beginning.
2) Action Words
One similarity across the board between resumes, CVs and cover letters are tips and tricks to using action words. These powerhouse words can make the biggest difference when used right with thought behind them.
Action words are adjectives, used to describe. In terms of cover letters these words create an impact and pull readers into the subject at hand. Now, this doesn't mean you should pull up a thesaurus and use the most spectacular sounding words. Sometimes using simple action words can have just as much of an effect as a bombastic action word.
For example, a simple action word would be helped, and the more enthusiastic action word would be strengthened. Both are great, and depending on the sentence one or the other can be used just the same without worrying about sounding too simple or too over the top.
3) An Outline
An outline is always helpful when writing a cover letter, making sure you have a clear coherent message. List out the accomplishments and points you'd like to expand upon in a flow that makes sense.
Have several outlines ready for the different cover letters you'll write for the different open roles you want to apply for. You'll save time down the road by doing this.
What Not To Include In Your Resume
1) Salary Information
Don't include anything about your previous salary or what your salary expectations are for this role. This is a verbal discussion that should only be had during an interview.
2) Questions And Inquiries
Reserve all questions and inquiries in a separate email from that of your application or ask them at the end of the interview.
3) Resume Information Repetition
As mentioned before, avoid repeating points and sentences from your resume or CV. Instead, you should reference the points you want to highlight from your resume and CV in a natural way in your cover letter.
4) Photos
Images are unnecessary for almost every job out there unless you're an actor, singer or model. In that case, a cover letter won't do you any good. Understanding what is required and the role of a cover letter will help you plan exactly what and how to make an impression on a potential employer. Just remember to stick to a simple one-page format and never repeat points from a resume or CV, instead learn to expand on the important points mentioned in your resume or CV.
---