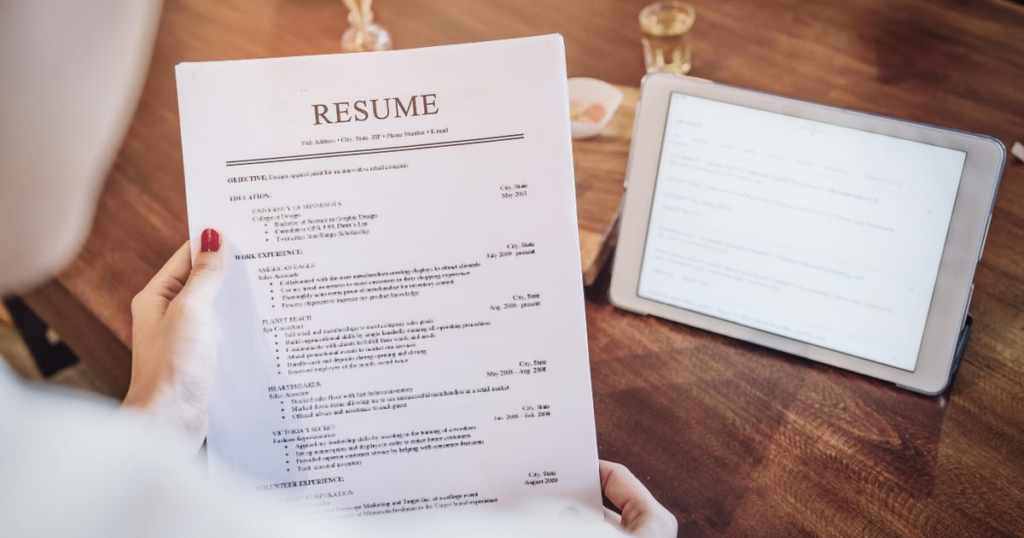 Free, professionally-designed resume templates for you to customise and use at will. Each resume template is designed to meet the standard of what an excellent resume should look like. Stand out from the crowd, get noticed, and get hired with our free resume templates. 
Sleek Resume Template
Icon-Based Resume Template
Modern Resume Template
Creative Resume Template
Writing A Job Winning Resume
First impressions are everything, especially when it comes to applying for a job. A resume is that first introduction between you and a potential employer. It communicates your qualifications and helps you stand out from the sea of applicants when written right. It's your first step across the threshold and to an initial interview.
Short and to-the-point, a resume is a summary of your work experience and skill. Don't see it merely as an overview of your job history, but instead as a means to convince potential employers that they should interview you.
What Makes A Good Resume
The key to a well-received resume is to keep all the information on one page. However, if your career spans longer than a decade you can opt for a two-page resume at most. Keep in mind that resumes are short and specific.
The order in which you lay out the specific information is also important when it comes to writing a resume. Start with the most important information first, experiences, skills and contact information, before including academic successes. By arranging information this way, it's much more pleasing to read from a potential employer's perspective. With all of this in mind, you might be wondering…
What To Include In Your Resume
It's tough to stand out from the crowd of applicants, and when you do you'll want to make sure it's for all the right reasons. So don't miss a beat with this quick resume checklist in this order:
1) Contact details – How else to schedule an interview?
First and foremost, include your first and last name, phone number, and email address. Feel free to add your LinkedIn profile if yours is up to date, and even your social media profiles if it applies. Don't forget your mailing address to prove you live near the place you're applying if it's a requirement.
2) Introduction – Keep it brief but impactful
An overview of your professional background, qualifications and drive behind growing your career in this specific industry. Provide a glimpse into why you love what you do, or why you want to grow and develop skills further.
3) Work history – Short and result orientated
Only list relevant work experience you have concerning the specific job. Include your title, the company you worked for, years worked, and two to three bulleted points list your key responsibilities and achievements.
4) Relevant skills – Keep it specific
The skills you possess and the skills you include in a resume are not always one and the same. Remember to list only the key skills the position requires, read the job description for guidance on this and search online for skills that are relevant to the position. Include a mix of hard and soft skills where necessary.
5) Educational background – Just the essentials
Include the names of schools that are most recent and relevant, highest diploma, degree or PHD earned, majors and minors. Your GPA should only be included in the job description mentions it, or if you want to include it.
6) Certifications and awards – The most recent and relevant
Towards the end of your resume include certificates and awards you've earned during your career. They should highlight your list of skills and accomplishments.
7) Languages – Only the ones that matter
Don't include languages where stringing together a simple sentence shakes your confidence. Only include languages you can confidently speak, read and write at a work-appropriate proficiency level. Even then try to tailor the languages you include to the job description or where the company is based.
Now that you know what to include in a solid resume, here's...
What Not To Include In Your Resume
1) A wall of text
By this point you already have it memorised that resumes need to be short and to the point. A wall of text is the complete opposite of it and is still a mistake that one may easily make.
If you find yourself writing a wall of text, take a minute to extract the important information and simplify it into a sentence at an average reading level. Make sure to do this in two to three bullet points that highlight what the wall of text was trying to convey.
2) Tiny text
Reducing the font size might seem like the solution to freeing up space to include more information. But this could easily backfire. If the text is too small it can be easily deemed unreadable by both a potential employer and AI.
Emphase your most relevant abilities and utilising bullet points or brief phrases to keep the word count down and leave some white space on the page for a clean visual appeal. Use a clear, easy-to-read font in a reasonable size of either 11 or 12, and most importantly think about how your resume will look on the page.
3) Don't use "I"
You should avoid sounding repetitive, and the best way to do so is by removing the use of "I" in any sentence. You want to write your resume from another person's perspective, even in your profile summary.
Tips To Make Your Resume Shine
1) How to keep it short
Keeping your resume short with all the achievements, skills and experience you've gained during your career might seem almost impossible to do especially if your career thus far has been a long one.
The best way to ensure your resume is only one to two pages long is to tailor it to the specific job you're applying for. You'll be able to narrow down attributes that are in line with the job description. This will ensure that you don't go over two pages.
But what if you believe all your job experiences are valid points to be highlighted? Then you'll only want to include two to three short points of your achievements with each company under experience.
2) Why keeping multiple resumes is a great idea
It's not always possible for a single resume to perfectly fit every job opportunity that comes your way. Some will require you to highlight different career achievements over others, and knowing when to showcase certain points and skills to different employers will work as an advantage.
Creating multiple variations of your resume for different specialisations within an industry will help potential employers to envision your attributes in the role that they are hiring for. By catering your resume to the specific job description you'll also only be including experiences and skills that are relevant to the job, thus saving time as to what to include and space.
3) Include power house action verbs
Resumes don't only begin to all look the same to an employer after the first 10 resumes, but they all start to read the same too. Action verbs are a great way to draw attention and spark interest in your resume.
Action words are adjectives, and the easiest way to indicate the use of an action word is to imagine the word "I" in front of it. When you're listing your bullet points make sure that the first word is an action word. Mix it up by looking up synonyms for action words that pack a punch. Examples would be using integrated instead of combined or using forecasted instead of estimated.
Resumes can be tedious to write especially when you need to have multiple variations. Over time and with practice writing a resume can easily become second nature.
You now have a solid understanding of what a resume is, what to include, what not to include, and tips on how to make your resume work for you instead of against you. Just remember to keep it short, simple and to the point and you'll be a shoo-in for an interview.
---