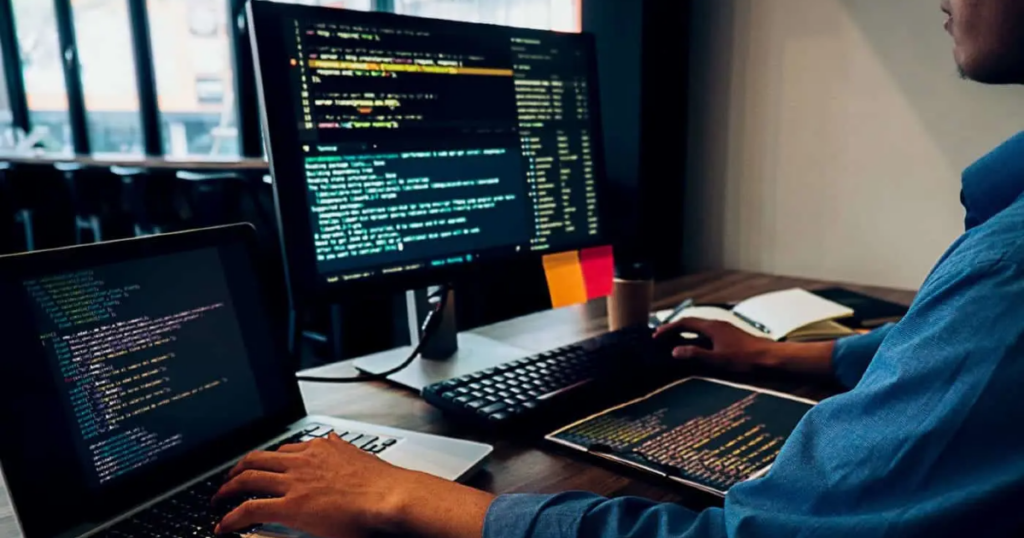 Every business with an e-commerce website needs a web developer. This is why it comes as no surprise that web developers are in high demand. That being said, it's not always a sure thing to be hired for a position just because you're a skilled talent, after all you're competing in a highly competitive career space.
A well-crafted resume or CV could easily help you secure a first interview with an industry-leading company. We've broken down the necessary sections, information and formats you should include in your web developer resume.
Resume Sample
Structuring Your Resume
Keep all of the information on one page for a well-received resume. If your career spans further than a decade, you can get away with a two-page resume. Keep in mind that resumes should be concise and targeted. This is the flow of a resume you should follow:
Contact information
Summary
Work history
Relevant skills
Educational background
Certifications and awards
Languages
As for formatting, these are the basics you need to know:
Margins – One-inch margins on every side
Font – Arial, Cambria, Calibri, Didot, Garamond, Times New Roman, Helvetica
Font size – Use a font size of 11-12pt for normal text and 14-16pt for headers
Line spacing – Use 1.0 or 1.15 line spacing
How To Write A Summary
An overview of your professional background, qualifications and drive behind growing your career in this specific industry. Provide a glimpse into why you love what you do, or why you want to grow and develop skills further.
Example : Over 6 years of experience working in the tech and finance industry for two fortune 500 companies. An enthusiastic web developer with interest in creating the best possible web experience. Specialised in front-end development with a strong background in project management.
How To Highlight Experiences
There are two things to always remember when writing your work experience section of your resume, bullet points, specific experience and wording. 
#1 Bullet Points
List no more than 3 to 4 bullet points per role.
Each point should give a single easy to understand sentence.
#2 Specific Experience
Tailor the experiences you list according to each role you're applying for. Do this by making sure you're highlighting accomplishments that reflect the role specifications or requirements in the job description.
1) The Job Description: Write client-side code to create easy-to-use and interactive web-based applications which include websites for both desktop and mobile browsers.
2) Your Experience: Restructured the code of several clients desktop and mobile browsers into easy-to-use and interactive web-based applications, resulting in a 90% decrease in interface issues.
These experiences should not be your day-to-day task, but instead where you accomplished something.
Pro tip: Display your experience in a reverse-chronological order. It is one of the most common and go to ways to list your work experience. It's easier for hiring managers to see the most relevant and recent work you've done.
What If You Don't Have Experience?
Even without any work experiences you can still craft a great resume as someone starting their career journey, after all everyone has to start from somewhere. Here's what you can include instead of full-time work experiences.
Internships
Volunteer work related to the industry
Freelance jobs
Contract projects
A portfolio of mock ups
Action Words
Action words are adjectives, used to describe while creating an impact and pull. It's a great way to get the attention of the hiring manager, and make your achievements stand out. Words like these are great action words to consider when writing your resume:
Championed
Overhauled
Pioneered
Endeavored
Established
Forged
Guided
Handled
What Should You Include And Not Include
A resume is short and sweet, so here's what to mention in your resume and what to skip over.
Your highest education achievement and GPA, but the year you graduated is unnecessary and can work against you.
Interest and hobbies aren't a must have on a resume, and should only be included if you have the space.
Languages that you list on your resume should never include a language where you only know some words and phrases.
In a separate piece of paper you'll want to include the following to boost your chances at being selected for an interview. If you have a website with the following showcased, feel free to include your site under the contact information section of your resume.
Top Skills Of A Professional Web Developer
Hard Skills:
HTML
CSS
JavaScript
Git and GitHub
Backend languages
Web architecture
Database storage
Content Management Systems
Web Server Management
Responsive Design
Soft Skills:
Collaboration
Critical Thinking
Problem Solving
Adaptability
Certification And Awards
If you've been meaning to up your value as a web developer, there are a handful of certificates you should look into regardless if you're starting out or a veteran looking to sharpen your skills. Many are offered solely online with great time flexibility to work with your schedule and learning pace.
Here are some certificates worth considering:
CareerFoundry
Thinkful
Ironhack
AcadGild
Cornell
General Assembly
Springboard
BrainStation
Awards are a great reminder of the achievements you've accomplished for your company or with your industry.
Cover Letter
An excellent companion to any resume, a cover letter provides you with the opportunity to go a little more into depth with why you're the ideal candidate for the position. A cover letter also shows that you have a desire to work for the company you're applying to, instead of sending out generic resumes to any company with an open role. The structure of your cover letter matters as much as the content itself.
Contact details
The hiring manager's details
Opening paragraph
The body
Closing
Formal sign off
You'll want to make sure that the font size and spacing is as easy to read as it is pleasing to the eye. Also use action words when detailing your accomplishments and experiences that highlight your transferable skills to the position you're hoping to get hired for.
---