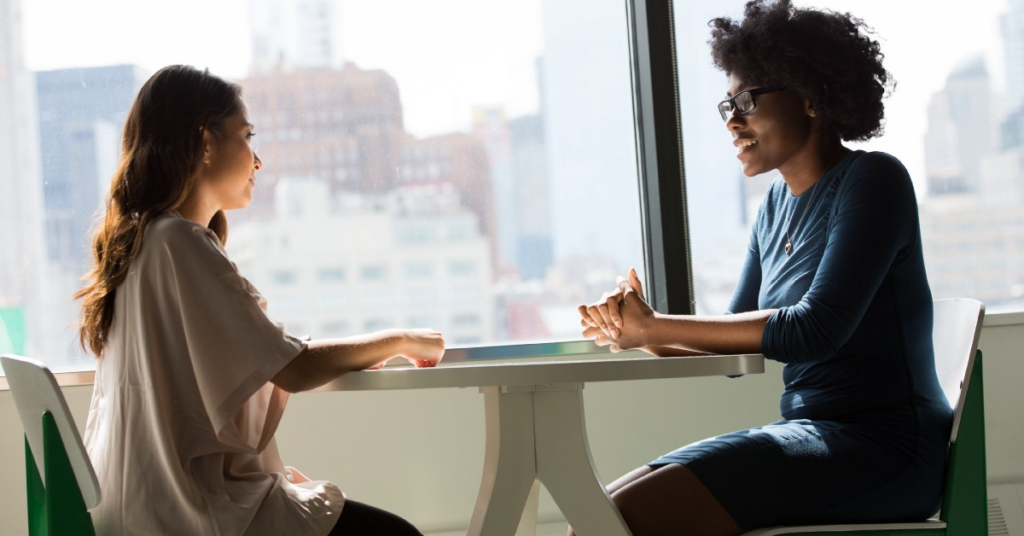 Let's be real, most of us are not good at making the first move towards a conversation. Especially if it's a stranger or a setting we are unfamiliar with. Yet, conversations drive connections, and connections are gold coins in the corporate world. Before you step into the corporate sector, you have to be well-equipped.
Can't figure out how to navigate these challenges and start a conversation in your new workplace? Here's our straight-to-the-point 8 step guide to nailing the much-needed networking skill.
8 Hacks To Get The Words Flowing
1) Ask about them

Sometimes there's just no clever way to do it. You have to begin at the beginning. That means you ask questions about the person. Asking such questions means you are definitely interested in a conversation. Ask them about their work, or about a vacation they recently took, or about how they organise their work desks.
In most cases, asking questions will lead you to discover shared experiences, maybe you both love traveling or hiking, or maybe you're gushing over the same football team. There's no end to the number of things you could discover about each other when you start asking about them. Be sincere with your questions and show interest in what they have to say, but do not ask intrusive questions.
One tip to go about asking the right questions is to feel the vibe of the person in front of you, and navigate the conversation accordingly. People usually like talking about themselves and their experiences, you just have to ask the right questions. If you can get this right, we guarantee that you will have a workplace friend in no time.
Examples:
"Is that your picture? Wow, where was it taken? The place looks amazing!"
"How long have you been working as a copywriter? What got you into it?"
2) Pay a compliment

Compliments go a long way when it comes to starting conversations, but don't go overboard and end up becoming all mushy. Pay a tiny compliment to your colleague. It could be anything you like about them, like complimenting their handwriting if you see it in front of you.
Tell them you love their hairstyle. You could tell them how cool their shoes are. Anything that is right in front of you and would not make them feel like you are being too intrusive. Be genuine too, don't say it just for the sake of saying it.
Compliments brighten up people's days, and do wonders for their confidence. On top of it, you could easily ask questions to follow it up, like where did they get their shoes from or who is their hairstylist, and keep the conversation going.
Examples:
"I love this shirt on you. Where did you get it from?"
"This new hair colour looks wonderful on you! Which salon did you go to?"
3) Notice something general
Start mundane and general. Talk about the weather. Talk about the new pizza shop in town. Ask for café recommendations. Or the latest movie they might have watched. Something general, that is not invasive, but shows that you are interested in talking to them.
There's no need to be clever with words and ideas when it comes to workplace conversation starters. All it needs to be is appropriate and relatable. As long as you keep it neutral you do not run the risk of hurting anyone. Small talk might be difficult for some people, but that is exactly how you can navigate office conversations: Start small, go big later. All in good time.
Examples:
"Do you think it's going to rain later?"
"Did you try the café around the corner? How is it?"
4) Ask for opinion/help

You could also reverse the ball game here. If you find yourself in a fix, ask for their opinion on a matter you are struggling with. This works wonders because you have made the next person feel like they have helped you, their presence has mattered, and that is something that can make someone feel wonderful.
Trust us, making a person feel good is a good way to build friendships. If someone is able to help you, being on their favourable list is almost a sure thing. They trust you because you trust them. So, go ahead, do not hesitate to ask for help the next time you need it.
Examples:
"Can you please help me with this printer? It seems to have a mind of its own!"
"Can you please show me how to work this attendance app?"
5) Introduce yourself

You know what might work even when it can be considered very formal? An introduction. An introduction usually shows a clear indication that you are interested in beginning a conversation, and building a relationship with them. If you've just started and are completely new at the office or the department, then make the first move of going ahead and introducing yourself. You can then keep asking professional questions about them or the company, and continue the conversation.
Examples:
"Hi, I am Susan and I am the new copywriter. Nice to meet you. Which department are you from?"
"Hello, I am Susan. I just started today as the new copywriter. May I know your name?"
6) Look for common ground

Passing a pleasant comment about some shared experience often does the trick when all else fails. You could make a general observation about something you have both experienced. Like the office party last weekend. Or the UNO game you played the evening before.
It could be something about the movie fandom you both like watching. If there's a sports game you both love, try to cash in on something around it. Ask them what they felt during the latest match. Make them feel welcome, then let the conversation take its own course.
Examples:
"I didn't know you were a Harry Potter fan as well! Which house are you in?"
"Last night's party was so fun, did you try [insert name of dish]? I wish we could do this more often."
7) Ask for information

Starting a conversation in the workplace will not be tricky as long as you stick to appropriate topics and issues. Asking for some kind of information is the easiest way to initiate a conversation in a business setting. It is safe, it is easy, and it is a question so it ensures a reply (most of the time!). Even if you already know the answer, there's no harm in asking.
This is an amazingly easy way to begin building a rapport with someone. It could be something about the project you are working on together. Or it could be about some work trip you are going to. Or a conference you will attend. There are plenty of options to choose from. Take your pick.
Examples:
"Do you have any idea if we are allowed to bring our families on this trip?"
"Do you know if our CEO will be speaking at this event?"
8) Show genuine interest

Another smooth way to initiate a conversation is to offer help. If there is ever a time that you find yourself in a situation where you can be of some help, go ahead and offer it. It easily puts you into their good books, you are instantly likeable, and chances are the person will themselves drive the conversation.
Show genuine concern, that is a zero-fail way to earn someone's trust in any situation, no matter who the person is or how long you have known them.
Examples:
"Let me help you carry all these items."
"Do you need help decorating the office for Christmas?"
The Best Topics To Start A Conversation In A Work Setting
Since these are your colleagues, do stick to safer subjects like sports, family, tv shows, movies, food, and all the general stuff. It is alright to linger on the periphery of work-related issues. But do not go all intrusive at the very first go. Be polite, sincere, and aware.
Starting a conversation at a new workplace or in a business setting might seem like a daunting task in the beginning, but give yourself and the people around you some time, and you will soon get the hang of it.
Topics To Avoid When Starting A Conversation For The First Time
Steer clear of asking personal questions (like if they're married or single) or invading into areas that people prefer to keep to themselves. You're just starting out, let the relationship grow in its natural way and avoid asking about their salary, political, or religious beliefs. It usually will not go down well with strangers. Also, definitely steer clear of gossip and controversies!
Ready To Start That Conversation?
Hopefully, by following our tips, you will find it easier to navigate through office conversations. By keeping the conversations light-hearted, sincere, and devoid of controversial topics, you'll soon be able to win hearts at your workplace.
And, with the right approach, you'll also be able to keep the conversation smoothly moving forward in a productive way and ensure that you are building great business relationships easily. All the best, and happy conversations!
---