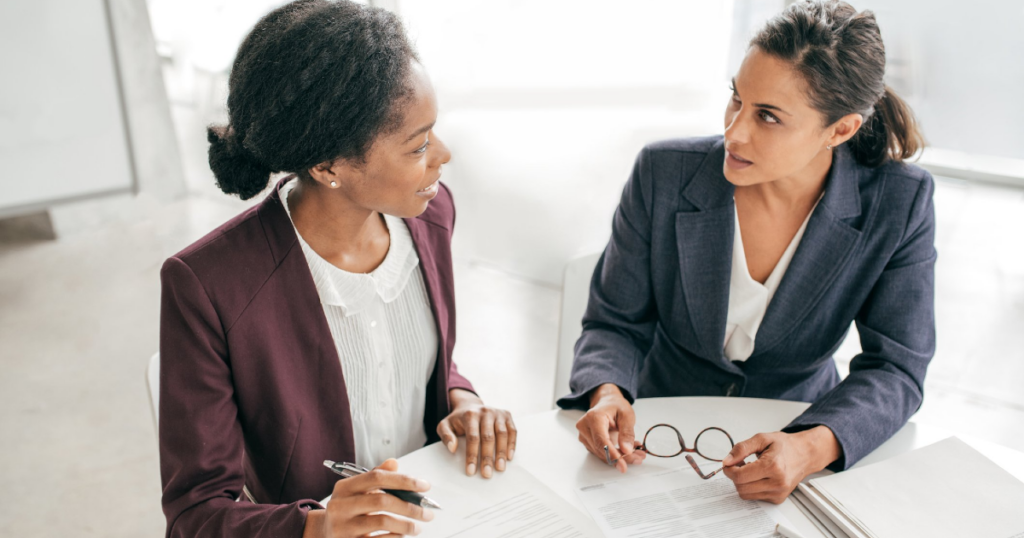 Do you like bossing people around and telling them what to do? You might be a good fit for the role of a supervisor. Well, not really, we're just kidding okay!
Remember, people don't leave bad jobs, they leave bad bosses, and you wouldn't want that, would you? A supervisor's role is so much more than commanding subordinates. And this article aims to help you understand what exactly these roles and responsibilities are, plus how you can climb the corporate ladder to become one.
But first, let's start with the very basic: "Who exactly is a supervisor, again?"
Supervisor Vs Manager Vs Team leader
The corporate world is a fascinating domain with complex frameworks and mechanisms that hold up organisations. One of the most significant roles played by an individual in this grand framework is that of the supervisor.
While the position of the supervisor is valuable and almost akin to that of managers or team leaders, it has its own set of responsibilities and objectives. And if you're applying for that position in the near future, it's a wise idea to be able to at least distinguish between the three positions, as explained in greater detail below: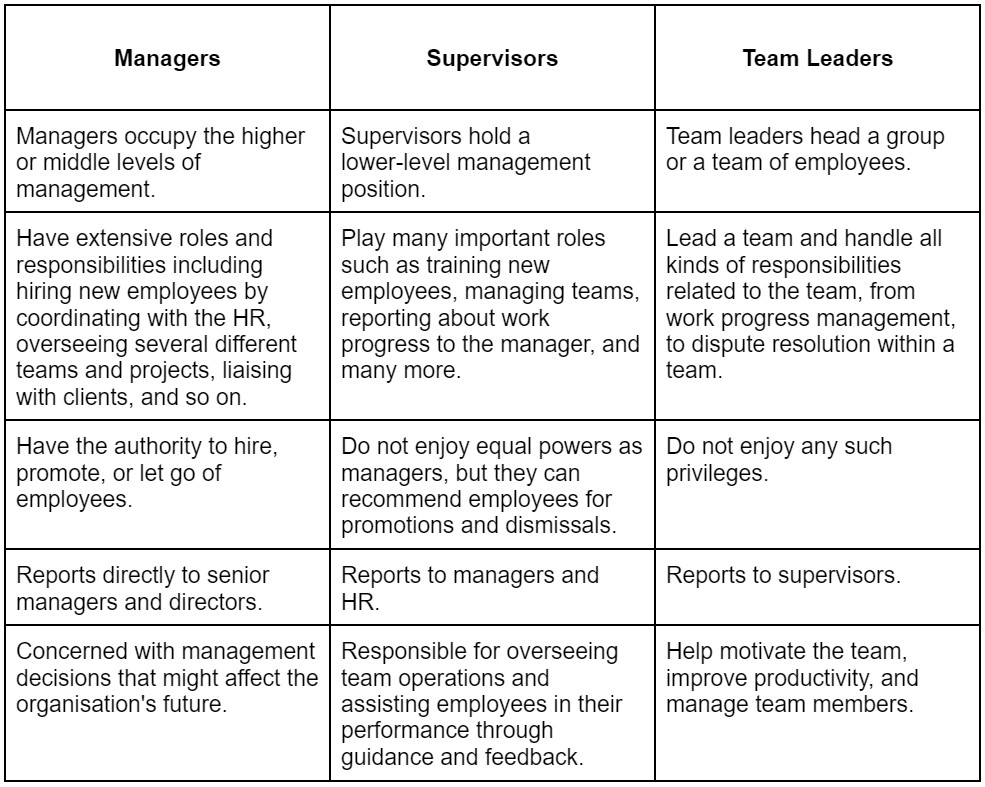 What Are The Seven Responsibilities Of A Supervisor?
No, it's not just sitting and ordering people (in fact, it shouldn't be that at all!). On the contrary, the higher you climb, the more important tasks you would need to handle. At a glance, the post of a supervisor sounds exciting and oh-so-powerful.
However, as a lower-level managerial position for overseeing everyday performances, working as a supervisor entails several responsibilities to account for. Though the post can be rewarding, it's these responsibilities and challenges that make this post such a valued one in organisations. If you're eyeballing this position in the upcoming future, here are some of the responsibilities you're going to have to shoulder:
1) Workflow management
One of the primary responsibilities a supervisor is expected to account for is the efficiency and productivity of the team. You must be able to manage the team efficiently and oversee the overall workflow of the team and look into the tasks the team must accomplish. In addition to observing the team, you should be able to effectively communicate objectives and define goals to improve the workflow.
2) Training new employees
The supervisor is often assigned the role of attending to new employees and helping them realise their position in the team, supporting them in their position, and guiding them in the initial days. You must also be able to train them at their new post provide an orientation to the workplace and its policies and job duties. It's also necessary for you to work closely with human resources during the training period of new hires.
3) Creating team schedules
Most corporations work in shifts, which require planning and organisation. Hence, you should be able to make schedules for the entire team and ensure the team operates within the stipulated deadline. Managing employee schedules also lets the supervisor be flexible and open to changes among other employees.
4) Evaluating employee performance
The supervisor is accountable for the team and must be able to identify and evaluate employee performances. This also involves setting team objectives, incentives, and rewards for completing those objectives.
5) Identifying career advancement opportunities
The supervisor must also play an active role in the career advancement of employees. You can help identify valuable employees and reward them for their services. If you cannot directly reward an employee, you can instead identify the employee as eligible for promotions. You'd often be consulted by senior managers during the promotion process.
6) Resolve employee issues and workplace disputes
Supervisors must also be responsible for the smooth functioning of the team. During a workplace dispute, you can exercise power to break up issues between employees. In addition, you can be approached by unhappy employees. Other than active listening skills, you must be able to resolve disputes or reach out with a viable solution. If the dispute is between colleagues, you often have to serve the role of a mediator till the issue has been straightened out.
7) Reporting to higher management and HR
Within a corporate framework, a supervisor is answerable to the HR and the senior management for reporting the team and its members. Other than assessing employees based on markers like their performances, professionalism, and punctuality, the supervisor is also expected to suggest performance improvement plans and boost productivity.
What Are The Objectives Of A Supervisor?
The primary objective behind the position of a supervisor is to oversee the performance of employees and their productivity. You'd be serving as an intermediary between the employees and senior management to maintain clear communication between the two.
They also play an important role in improving employee productivity through training and assigning tasks to help employees pursue their career objectives. The position of the supervisor helps retain employees, achieve team goals, and resolve conflicts within the workplace.
What Are The Skills And Qualifications Required Before You Can Advance To This Position?
Now we come to the most important section – the skills and qualifications you would need to become a supervisor. This position can be quite demanding, and requires several skills and qualifications to be able to handle such responsibilities. Along with supervising skills, an individual must have management and leadership skills to succeed. Mentioned below are some of the necessary skills and qualifications required for becoming one:
Critical thinking: Critical thinking is one of the fundamental skills to be possessed by a good supervisor. Critical thinking allows a person to approach decisions analytically and ensure effective management.
Time management: To be able to keep up with the responsibilities of asupervisor, an individual must have time management skills, allowing them to simultaneously oversee and improve productivity around the workplace.
Communication skills: Supervisors must be equipped with superior communication skills to interact with employees meaningfully, share ideas, and guide new hires. Communication skills also prove to be beneficial while resolving conflicts between employees.
Mentorship: To boost productivity, supervisors should be able to mentor their subordinates. Furthermore, they'd need to help new hires train for their posts, making mentorship an essential quality to have for working in this position.
In addition to the skills mentioned above, an individual aspiring for a supervisor position must have educational qualifications like a bachelor's degree or specialised course programs like office administration. Having some prior experience can also fast-track your application for this post!
What Are The Ways You Can Become A Great Supervisor?
So, you know what skills and qualifications you need to become a supervisor. But how to be a 'great' one? Let us share some secrets! The role of the supervisor is not limited to overseeing team productivity and efficiency. Instead, it extends to resolving conflicts, identifying valuable employees, and being appreciative of your subordinates. With these tips, you can foster better bonds with your employees, actively participate in the management technique, and become a great supervisor:
Making an effort to know your employees better – This allows you to evaluate their strengths and weaknesses and bring out the best in them.
Actively listening to your employees – This can prove beneficial in resolving workplace conflicts and providing valuable feedback to improve productivity around the workplace.
Treating your employees as equals – Can help you win them over, improve interactions, and set an example as a leader.
Acknowledging and validating your employees – This goes a long way in cultivating a healthier workplace environment. It can also prove beneficial in improving the workforce.
You're Ready To Become A Supervisor!
What are you waiting for? Apply for that supervisor position and knock it out of the ballpark!
However, you must also remember that being a good supervisor is always a work in progress. You must also be appreciative of your contributions, strengths, and weaknesses to work on yourself in being a better version of yourself.
Developing your skills is essential for your career and personal growth. With so many great courses available, it can be hard to know where to start. At GRIT Smarts, there are plenty of courses that are perfect for supervisors and managers.
Whether you're looking to improve your communication skills or learn about the latest leadership trends, GRIT Smarts has something for everyone. Sign up now and get started on your path to greatness!
---