It can be difficult to understand specifically what the idea of 'zen' is. For some, it's a feeling of peace and calm; for others, a minimalist life or even a destination that brings them happiness.
Truthfully, zen is none of the above scenarios.
The origin of zen lies within the concept of meditation, centering on a personal relationship between you and your mind. At its core, the art of zen is finally being able to come to peace with your thoughts, and the self-awareness of who you are in this universe.
At a basic level, zen is practised firstly by clearing your mind. Allow your thoughts to enter and leave, soar and fall organically, with no interaction or influence in any way.
As zen is rooted in meditation, applying it in the workplace can be a bit of a challenge. After all, the office is most often a fast-paced world of "go, go, go" and never "stop, pause, reflect".
This can lead to imminent burnouts as we juggle the roles we've been assigned. Not forgetting, offices are most often not a conducive place to sit down quietly and meditate.
Despite that, there are several ways you can cultivate a higher level of mindfulness while still at work. It doesn't have to involve getting out of your chair and setting up your yoga mat in a corner, but little things and practises to help you find peace in your thoughts and well-being.
By practising or honing a more zen-like state of mind (a.k.a. being mindful) in the office, there is better mental focus and attention channelled into what needs to be done. That includes being mindful of new information and differing points of view too.
1. Calm yourself with your favourite scents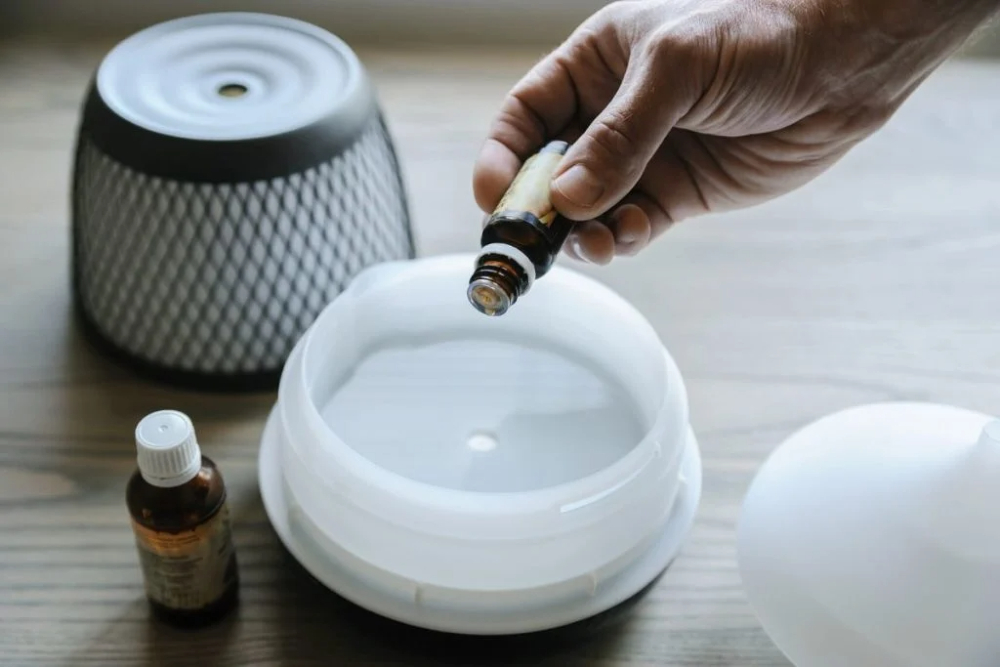 Scents can help you calm your nerves and transition into a more peaceful state of mind. Certain scents like rosemary, peppermint, and citrus can even help you focus better as they contain properties that energise, uplift, open your breathing, and in some cases, are even anti-bacterial.
Depending on your preference, you can opt for anything from a soy wax air freshener (USD 9.81) to a state-of-the-art desktop diffuser (USD 99.00) to help you breathe and tap into zen while in the office.
2. Declutter, detangle, and dare to Marie Kondo

If you find yourself losing attention quickly, the odds are it's because of clutter all around you. A messy, unorganised environment can affect the way our brains work, resulting in procrastination, increased stress levels, and even poor eating habits.
The solution? Dispose of items that don't spark joy. Start by organising your office stationery with IKEA's TJENA desk organiser (USD 4.99), but if you need even more storage solutions, go big with this 5-tier mesh organiser (USD 39.59).
3. Go for simple, meaningful items

Now that you've disposed of things that don't spark joy, you can welcome ones that create that in your heart. Practice the mantra of 'less is more' and choose simple, yet meaningful items that will keep you grounded and motivated at work.
It could be anything from small, simple, inspirational laptop stickers ($3.19) that will remind you to stay grounded, or even a blown-up poster of the peaceful ocean ($41.00) to remind you that this (whatever it may be), too, shall pass!
4. Invite greenery into your space

To reach a place of zen, sometimes it requires imaginative thinking. The imagery of a Japanese bamboo garden, a flowing stream of clear water, or perhaps an endless meadow below blue skies.
The one thing all these have in common is nature. By incorporating elements of nature into your workspace, like an adorable pack of mini succulents (USD 13.99) or a Monstera statement plant (USD141.00), greenery in the workplace has been proven to increase workplace happiness, and of course, the quality of indoor air.
Did you also know that having a number of plants by your working area has been proven to increase productivity by 15% (according to a study conducted in the UK and Netherlands)? All the more reason to go get those green thumbs moving!
5. Invest in noise-cancelling earphones

When you need to get in touch with your inner goal-driven self, noise-cancelling earphones are a necessity to completely block out workplace chatter and idle noise so you can focus on yourself and on the now.
Take your pick of the audio buddy of your choice to accompany you, like these compact, noise-cancelling JBL earbuds (USD 99.95) or these sleek, wireless Sony earphones (USD 349.99).
6. Achieve inner peace with lyric-free music

Lyric-free music such as Beethoven's Symphony 5, a Japanese bamboo water fountain, or even your favourite lo-fi playlist on Spotify can help improve our sense of learning, focus, and eliminate distracting background noise.
By plugging in your noise-cancelling earphones (or earbuds) and tuning into these soothing sounds, you'll be able to clear your mind and boost efficient productivity at work. There are plenty of playlists on Spotify for focus that are completely free, or if you have a vintage vinyl player, check out Craig Kupka's New Music for Relaxation ($21.98).
7. Light up your space

Related to the human body's circadian rhythm, the presence of daylight or sources of natural light can enhance performance and moods at work. Remember: Blue/white lights make us energised, whereas red/amber lights increase melatonin secretion which improves mental health and leads to better sleep.
If your work desk is tucked away in the corner, far from natural light sources, you can still lift the mood with a multi-functional dimmable LED desk lamp with a built-in phone charger (USD27.99) or a minimalist lamp with gold accents (USD 129.60).
8. Have enriching drinks or snacks on standby

A healthy mind starts with a healthy diet! Despite the bad repertoire tidbits get, healthy snacks help improve brain functions, moods, and maintain your body's sugar levels throughout the day.
Raisins and prunes are high-fibre treats and when mixed with nuts ($22.49) such as almonds, cashews, and walnuts, are a good source of healthy fat. For beverages, brew a hot cup of chamomile, lavender, or matcha to soothe your mood and mind, and indulge in a varie-tea pack of 8 flavours for just $17.99.
A Time And A Zone For Zen
In the modern world, peace and mental health are just as important as physiological needs on the lowest rung of Maslow's hierarchy. Depreciating mental health can impact work performance, productivity, communication, and even daily functions.
By creating a zen corner in your workplace, it represents a safe space for you to be at peace with yourself and your thoughts, accepting everything and yet, also nothing. Embracing and acting on the concept of 'here and now'.
A zen workstation can contribute to higher productivity, lower stress levels, efficient time and energy management, and a strengthened focus to meet your end goals.
Needless to say, before you get your work in order, it's time to get your surroundings in order. Namaste!
---