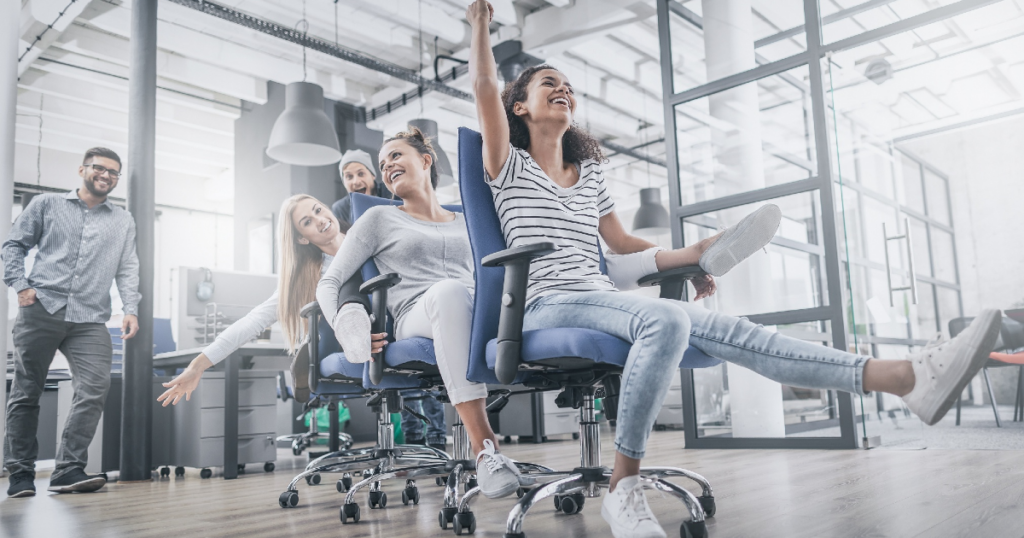 How would you feel if you went to work not to sit at your desk and work your fingers to the bone, but to have a little bit of fun and mingle with coworkers over foosball matches, ping pong games, or even fitness classes? Yup, you read that right. Some companies are now providing all kinds of fun activities for their employees to help them unwind!
The days of working in a stark and strict workplace should be long gone. Given that we're experiencing a fundamental shift in the way we work, doesn't it make more sense for modern workplaces to evolve and become more enjoyable? Moreover, businesses must invest in what will help them grow and thrive in the long run (Hint: It's the employees' happiness).
As a place that requires our attention for at least 8 hours a day, 5 days a week, the same old routine and monotonous place of work can make it dreary and dull. Companies should seriously consider ways to make work more exciting and stimulating. Numerous studies have even been conducted to demonstrate how having fun at work provides tangible benefits to both employers and employees.
For example, consider the well-known Google, which is always mentioned when it comes to having one of the best workplace cultures. Aside from the fact that it's one of the most prominent brands in the world, another major reason why many people want to work there is because of the fun work environment.
Google provides free perks such as top-of-the-line gyms and swimming pools, massages from professional masseurs, plus video game stations. While these benefits may add to the company's overhead expenditures, they pale in comparison to the money saved by lowering employee turnover.
If you find something enjoyable and entertaining, you'll of course want to do it more often. The same is true when you're at work. A study also found that workplace fun boosts employee engagement and autonomy among white-collar workers. Employees will be inspired to make positive changes in their workplaces, and will support the existing state of the office, if they perceive their management's support for fun.
So, Let's Take A Look At The 5 Reasons Why Fun Should Be Part Of A Workplace
1) Having good health is unquestionably beneficial
As we all know, spending the majority of our days at work following the same routine can lead to a very stressful lifestyle, which brings with it a variety of health issues. Some people may feel just a little under the weather and decide to skip work for the day, while others may miss weeks of work due to a more serious illness.
According to TALiNT INTERNATIONAL, U.K. businesses lose nearly 7 days per year per employee due to absenteeism, amounting to a £554 loss per employee, and costing the British economy £100 billion per year! Furthermore, nearly a quarter (23%) of U.K. firms report 'non-genuine absence' as the leading cause of short-term absence.
Health-care costs should be considered as well. A finding from the American Psychological Association's estimate that workplace stress drains more than $500 billion from the U.S. economy. This statement is supported by the Integrated Benefits Institute, which reports that poor health costs U.S. employers almost $950 billion on health care benefits, and 1.5 billion days of presenteeism annually.
That being said, having a workplace that is enjoyable and allows employees to de-stress means they will be happier. Happier workers mean lesser medical claims, and more money for the company!
2) Employees who have fun are more productive
Most employers aren't intrigued by the idea of having fun at work because they believe it'll cost them money and reduce productivity, thereby costing the company. After all, you're in business to make money, not to see a bunch of employees hanging out at the foosball table.
But hold that thought, because Forbes believes that investing in employee happiness will bring in good returns. A survey of 1,549 employees across the United States found that 62.3% would accept a lower salary in exchange for better workplace perks. This means that if the working environment and amenities are excellent, employees will be eager to work.
An experiment was also conducted by the Social Market Foundation at the University of Warwick's Centre for Competitive Advantage in the Global Economy to measure the level of productivity when employees are happy and having fun. 700 participants were chosen at random and given simple rewards such as unexpected refreshments, or being shown a funny video by a well-known comedian.
The experiment discovered that individuals who received "happiness shocks" increased their productivity by an average of 12% and, in some cases, by as much as 20%. This demonstrates that happy employees are more productive and focused, which benefits employers in the long run.
3) Improved communication and collaboration among employees
Employees can improve their workplace relationships by participating in fun activities with their co-workers. According to research, employees who have best friends or friends at work are more engaged in their jobs, and are more likely to reach out for assistance if they need it.
By all means, this does not only happen with workplace entertainment, but employers should also consider team building, frequent team lunches and events, effective townhalls, plus a variety of other ways to foster team spirit.
As a result, employees tend to communicate more effectively and in a more positive tone, breaking down any potential barriers to achieving greatness at work. There's so much that people who work together can accomplish and benefit your business if they have a strong sense of camaraderie.
4) Having fun inspires creativity
There's a famous proverb: "All work and no play makes Jack a dull boy."
To be honest, all work and no play would not only make Jack dull, but also kill his creativity, motivation, flexibility, and potential. Going through the same routine, clocking in and out, and doing the same job every day can significantly reduce the potential for out-of-the-box thinking. Employees will always be in a negative mindset, especially if they have to drag their feet to work.
There's a need for fun in the air to help the brain stimulate happy hormones and promote good ideas. It has been discovered that people with positive mindsets are 31% more creative than those who do not, and a lack of creativity can be disastrous for businesses.
Employees who are creative and think outside the box can be innovative and excellent problem solvers. Companies may benefit from new ideas and innovation that'll help them drive and grow their businesses.
5) Encourage employee advocacy, which can help the company's visibility
Companies that want to attract new customers and grow should look no further than their employees, who can act as advocates for the brand. A recent study found that employee advocacy has a positive impact on growth and sales, due to increased brand awareness and positive perceptions.
So, how exactly does it work? When employers provide a fun, ideal, and engaging work environment, employees may share their experiences online. Almost everyone is on social media these days, and when employees share positive things about the company, the post will automatically reach people on their friend list, or possibly a larger audience if the post is public.
Besides that, many people are constantly on the lookout for jobs that offer attractive perks and benefits. If employers invest in making the workplace more involved and cooler, the company may be featured in articles or publications, boosting the company's visibility.
We now understand why all this is important, but some businesses may be unsure how to go about it, or could be hesitant because they believe it'll be time-consuming and costly. Not to worry, there are several options for making the workplace more enjoyable to work in!
Here Are 5 Simple Ways To Instil A Fun Culture In The Workplace
1) It's possible to provide fun on a budget
It doesn't have to be expensive to have a good time at work! Start small like creating a creative challenge for your employees. Give them a few minutes to look for a funny video on YouTube, and have them share in the company chatbox, so everyone can vote which is the funniest. This 5- to 10-minute break is enough to give them a little boost, so they can focus on their work afterward.
2) Celebrate any events or accomplishments
Employees often feel appreciated when their achievements are recognised and celebrated, especially when done publicly. It'll not only brighten their day but also boost their self-esteem and motivation. It could be a lunchtime birthday celebration, or an email congratulating everyone on their accomplishments.
3) Create opportunities for employees to connect inside and outside of the office
Every leader would prefer if their team members get along well, but few are willing to put in the time and effort required to ensure they have great chemistry. Always encourage employees to get to know their co-workers as much as possible! At the office, employers can cook up activities that employees can enjoy together; outside the office, organise a once-a-month team-building activity, such as a trip to a funfair, karaoke sessions, or an hour at a new coffee shop. The better they work together, the happier they'll be at work.
4) Keep up with the annual get-togethers
It's nice to have something to look forward to once a year. It could be anything from an annual dinner to a grand award ceremony or themed Town Halls that allow everyone to dress up, show off their talents, and do something out of the ordinary with their co-workers. This creates excitement for them as they look forward to letting loose together.
5) Hear what employees have to say
Employees love when they are seen and heard. Whether it's about implementing changes on the processes of work or on ways to have more fun at work. Try to get them to share their ideas on how to create a fun workplace. What matters is that when employees open up, companies should take them into account and do their best to make them a reality.
A Fun Work Environment Is Just What Everyone Needs
It might be a bit intimidating having to suddenly arrange new activities or set up a new culture at the workplace. Nonetheless, it's necessary to take into consideration better perks for the sake of everyone who works at the company.
Just a friendly reminder: Employers, don't be too strict and kill your employees' spirits by not allowing them to have fun at work, whereas employees who are already blessed with a fun work environment, appreciate those moments and always strive to do better!
At the end of the day, it's important to remember that work is such an important part of your life, and it's only natural to want to be happy while you're at work. As work can impact your mental health, your mental health can also affect your work. So, to both employers and employees, remember to have fun at work. It'll benefit your work style and your mental health too!
---