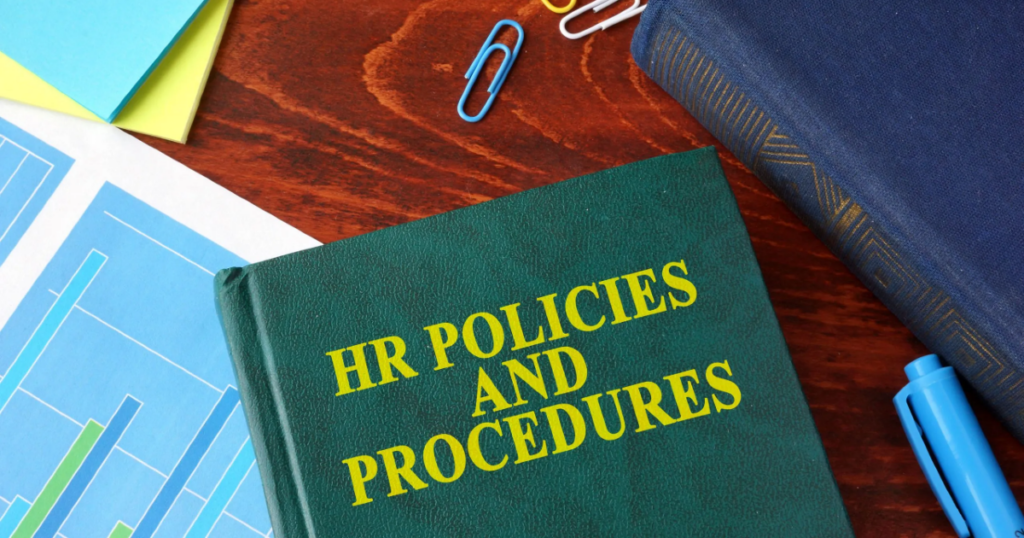 When it comes to the Human Resources department, they can sometimes be misunderstood and mistaken for the enemy when in actuality, part of their day-to-day duties involve taking care of employees and their well-being! You see, one of the greatest assets of any company is the people, so by treating them fairly as well as providing them with opportunities to grow, they'll then be able to help you achieve your ideas and hit your business goals! The company's HR team plays a vital role in helping to achieve the above, in addition to developing a positive culture, improving employee engagement, and productivity, as well as championing the wellness and personal development of all employees (themselves included!).
What Are Human Resources (HR) Policies And/Or Procedures?
With the above said, the HR department is also responsible for coming up with the company's various policies and procedures that not only protect the employees, but are also crucial in keeping the company running efficiently. In simple terms, these are guidelines for various important functions, such as hiring, work processes, compensation, leave, training, promotion, work environments, and termination, to name just a few. These policies and procedures also outline how the company will treat its people and property. They're developed by HR managers with the help of company management, so that in any situation, those who are responsible will thus know how to respond accordingly.
What Are The Functions Of Human Resources (HR) Policies And/Or Procedures?
You may still wonder what exactly is the main point of having HR policies and procedures in place, and we're here to tell you that it's definitely NOT to make anyone's life difficult! On the contrary, company owners and leaders would want their businesses to run as smoothly and efficiently as possible, while staying compliant with all relevant laws. How can this be done? Well, when you have solid and well-planned frameworks in place, you can then make consistent decisions, ensure your employees are treated equitably, as well as adhere to corporate governance and regulation of employees. These policies and procedures basically add structure and provide consistency in employment and workforce matters.
Although the exact details of each company's HR policies and procedures may differ from others, they should all have the same goal in mind: To be based on the employment best practices and regulations. In other words, they need to keep both the company and people's best interests in mind, should be transparent, and universally applied to all employees. Key elements of each one include purpose, procedures, and who needs to follow the guidelines, among other things.
What Are The Benefits Of Having Human Resources (HR) Policies And/Or Procedures?
Creating and implementing HR policies can reduce liability. Since they're meant to ensure employee-related practices are consistent and fair across the organisation, well-written policies will offer leaders guidance based on compliance requirements. For instance, HR policies should help managers fairly interpret company guidelines and apply uniform treatment to all employees, regardless of age, gender, race or sexual orientation. If issues do occur, there will be policies in place to address the concerns.
By clearly listing policies, when problems do occur, you're able to act promptly and save time by not repeatedly analysing ways to solve similar issues. Additionally, you may be legally required to communicate some of this information. And formalising a policy and then helping employees understand where to find things like the leave policy makes navigating requests like time off easier for the employer and employee.
Plainly listing policies encourages employee engagement and helps them better understand how to navigate key moments in their career growth, such as onboarding, promotions and offboarding. Specific policies may vary by industry. But whether you're working in retail, manufacturing or the restaurant business, employee engagement and retention is vital, and HR policies help lay the groundwork for success.
This is why we've created this comprehensive guide of templates to some of the more common HR policies and procedures for you so that you would be well-prepared (for yourself and to assist others) in taking the necessary steps, no matter the situation!
Templates For Attendance, Holiday, And Leave Policies
Templates For Employee Conduct Policies
Templates For Recruiting And Hiring Policies
Templates For Workplace Policies
---