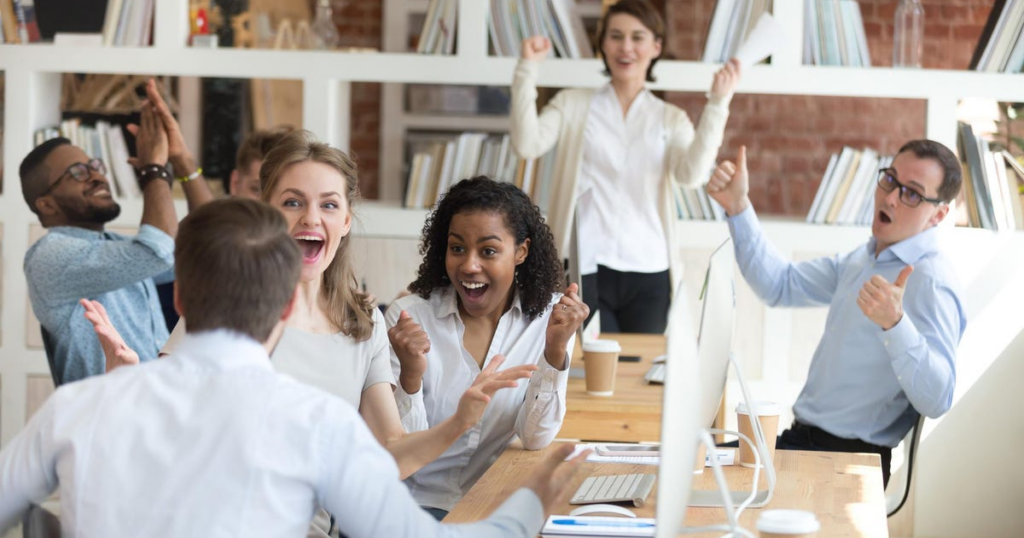 What comes to mind when you hear the term "happiness" at a workplace? Is it about getting a good salary, being rewarded frequently, having a reasonable workload, or working with great people?
Would all of the above be enough to make employees love their job and be eager to walk into the office every day? The truth is that every company in the world would like to have happy employees. However, many are too focused on profits and ROIs, and not enough on how their people are doing and feeling.
SnackNation shared shocking employee happiness statistics, which show that it's considered a major factor in a company's success and high earnings, such as:
Companies with happy employees outperform the competition by 21%
Happy employees are 12% more productive
67% of full-time employees with access to free food at work are extremely or very happy at their current job
Happy salespeople produce 37% greater sales
36% of employees would give up $5,000 a year in salary to be happier at work
Employees who report being happy at work take 10x fewer sick days than unhappy employees
This goes to show how employees can be valuable assets to a company if they're treated well and have a positive attitude toward the company. It's therefore important to recognise that they are an integral part of the business's growth.
Unfortunately, according to Gallup's State of the Global Workplace, only 15% of employees are engaged at work. This means that 85% of employees are either dissatisfied with their workplace or are merely doing the bare minimum to get through the day.
Worse, a study conducted by researchers at Ohio State University discovered that people who are dissatisfied with their jobs in their 20s and 30s are more likely to have sleep, anxiety, and depression problems later in life.
It stands to reason that happiness and productivity have a lot to do with one's mental health. That's why well-balanced people are more productive employees, whereas those who aren't will find it difficult to be satisfied with their job. However, it's a good idea to figure out what's causing the unhappiness and dissatisfaction, and then only figure out how to make things better.
It could simply be a matter of how things are going at work. There's a saying, "People don't leave bad jobs; they leave because of bad bosses and poor management who don't appreciate their value". That's why it's no surprise that YouGov discovered that 64% of employees would prefer a low-paying job they enjoyed over a well-paying job they despised.
Having said that, it's clear that upper management bears the most responsibility for employee happiness and love for their workplace. There are numerous tips available, but here are a few to get you started.
Here Are 14 Ways To Make Your Employees Happy and Feel The Love!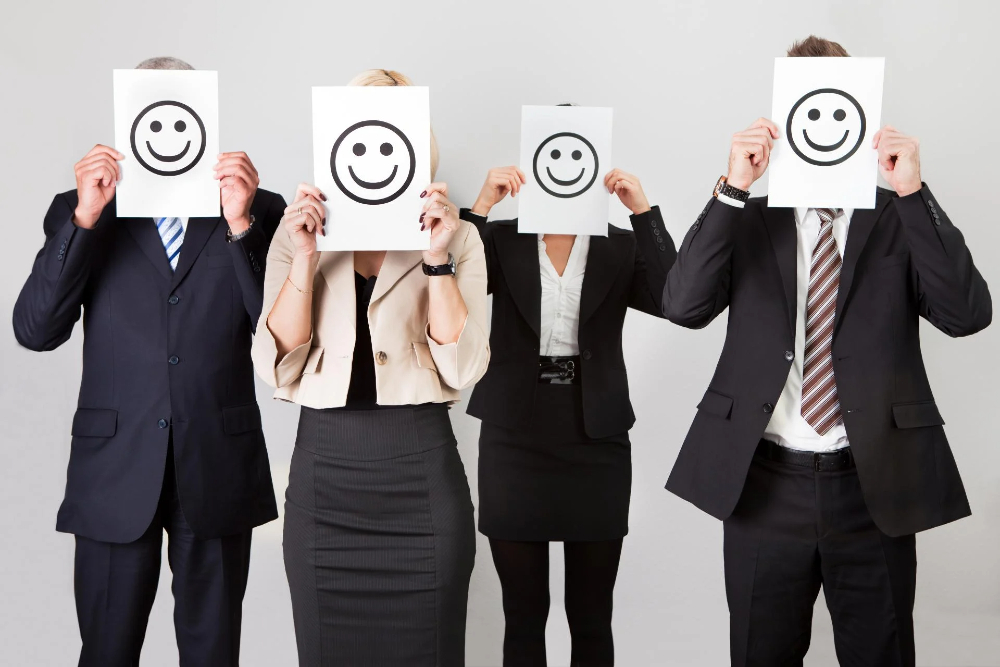 1) Allow for flexibility
Happy workers are those who attain a perfect balance between their personal and professional lives. By allowing flexibility, such as a work-from-home policy, flexible working hours, sabbatical leaves, and unlimited paid time off (PTO), employees can better manage their time. What's most important is that your employees complete their tasks by the deadline. Everyone has the right to some freedom, even at work, don't you think?
Making a workplace enjoyable begins with the people, particularly the management. How can employees have fun when management is stringent and unpleasant to be around? Make fun a part of the workplace culture so that everyone enjoys coming to work. Consider adding an entertainment room, a workout area, a snack and food bar, and a chillax corner, to name a few. The possibilities are limitless, so get started right away.
3) Accept people as they are
This may not apply to all industries (though it should be!). The management should look past the body inks, peculiar hairstyles, and unusual outfits because everyone deserves a fair chance regardless of appearance. Not only management but all other employees in the office should be expected to accept everyone exactly as they are. It's time to say 'sayonara' to those judgmental thoughts and behaviours.
4) Gain employees' trust
To gain the trust of your employees, you must first believe in them. When there is trust in the workplace, employees can benefit from a culture of honesty and mutual respect among co-workers. As a result, they are more likely to work hard and remain loyal to the organisation. With trust comes job security, which aids in lowering turnover. 
5) Get to know your employees
Nobody is born or grows up the same way. We've all been through different things in our lives, and while the experiences may be similar, they are never the same. Some may have faced adversity since they were children, have been bullied throughout their lives or other situations. Regardless, you as employers should be aware of the employees' background and position. This way, there'll be a sense of understanding and you can make better decisions when determining what makes employees happy.
6) Having everyone on the same page
This is never easy because every employee has their own mind. It's, however, doable if management can provide clarity on what should and must be done. You should always share the company's vision and mission with employees so they understand where the company is going. Once everyone is aligned on the goals, it'll be easier for employees to fall in love and be happy at work, because they understand their role in the company.
7) Evolve together to be better
Yes, upper management has veto power over what happens in and around the company. Even so, whatever changes occur in the company that involves or will impact the employees, it is best to keep them informed. The world of work is rapidly changing, and, understandably, many businesses are evolving to improve, but bring your employees along with you. Take them on the same path to betterment.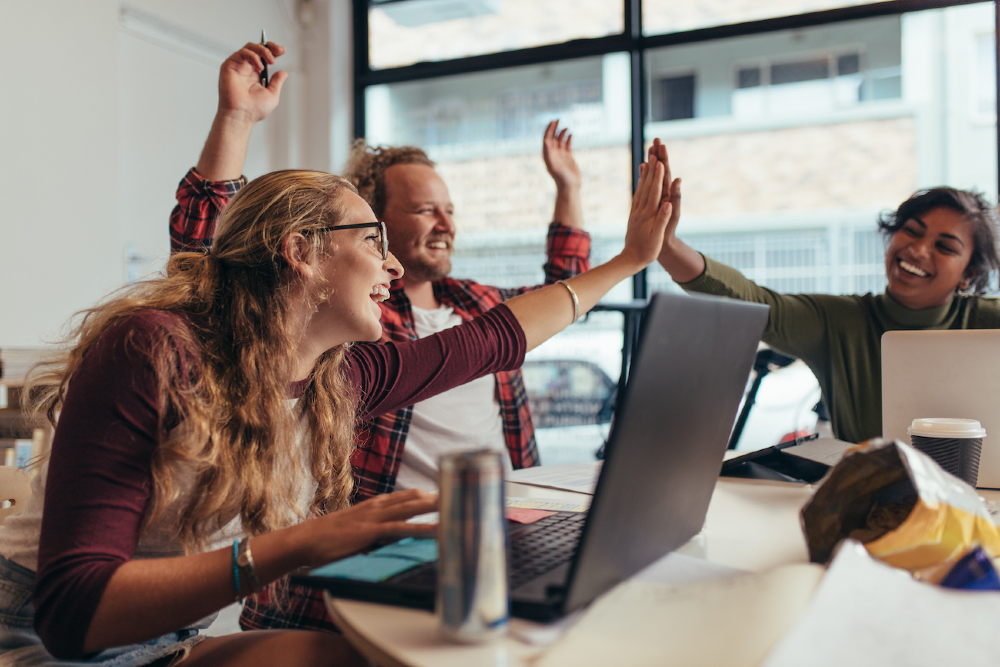 8) Create a positive environment
You could create a positive work environment by encouraging team collaboration, listening to everyone's ideas, promoting diversity, and maintaining open lines of communication, among other things. When a workplace gives off positive energy, all employees will feel the same way, all employees will be positive every time they come to work. It's one of the best ways to get them to work well together and appreciate what they have. Above all, positivity makes employees feel valued, respected, and happy.
9) Provide a career pathway
Most employees want to advance in their careers and be in a better position than they were before. To emphasise the significance of this, Maria Kraimer, a business professor at the University of Iowa, spoke with Business News Daily and shared her thoughts on career paths.
She said, "We found that providing developmental support, such as training opportunities and career mentoring, to employees who do not believe there are attractive career opportunities for them within the company led to such employees leaving the organization. It's critical for businesses to have regular career planning discussions with their employees. As part of training and development, make sure employees are aware of the different types of career paths or job opportunities throughout the company."
10) Never allow toxic behaviour to accumulate
Toxic behaviour permeates company culture and, if not addressed early, can destroy an organisation. Employers must understand what constitutes toxic workplace behaviour and how to appropriately deal with such situations. This includes everything from backbiting and bullying, to gossiping and bootlicking. Try to identify any issues as soon as possible and take necessary action. When everyone gets along well with one another, the workplace becomes a better and happier place.
11) 'Thank you' is a magical word
That's what we teach young people, but sadly, in the adult working world, there are still people (read: bosses) who fail to thank and appreciate their employees' efforts. Roofstock co-founder and CEO Gary Beasley spoke to Business News Daily about the importance of saying thank you in an organisation.
He said, "In my experience, employees rarely become unhappy or leave solely over money. When they do become disenchanted, it is usually because they don't like their boss, aren't engaged or feel like they have stopped learning. Having a positive culture and workplace environment helps a lot, as it encourages teamwork and communication, which increases engagement and opportunities for teammates to learn from each other. We also do periodic shoutouts to people at all levels of the organization for great work or superior effort. These kudos cost nothing but provide important public recognition for a job well done, effectively compensating people in the form of social currency, which is highly valued."
12) Encourage employees to take breaks
When employees are required to be at their desks from 9 a.m. to 6 p.m., it can be stressful and exhausting. On a busy day, some employees may not even have time to eat lunch and maybe compelled to work until late at night. If you think that's work determination, you're mistaken! If you notice your employees working until they drop, encourage them to take a short break away from their desks. It'll provide them with the opportunity to recharge, relax, and avoid work burnout. Better yet, ask them how you can assist them in making their tasks less strenuous. 
13) Offer extensive benefits
We rarely come across businesses that do not provide any benefits to their employees. But, if you're only offering the basics, how does that distinguish your organisation? Aside from the standard medical insurance, retirement plans, dental, and vision coverage, you could consider providing a broader range of benefits. According to PeopleKeep, this includes paid family leave, a four-day workweek, student loan assistance, pet-friendly offices, and fitness perks. The more benefits there are, the happier the employees will be.
14) Obtain feedback from employees
Communication is essential for determining whether or not there is a problem at the company as well as receiving feedback on how to improve the workplace. Allow your employees to express themselves by conducting an office performance survey or speaking with them individually or in groups. Inquire about what motivates them to stay at the company and what needs to be improved or implemented. Ensure that information is obtained from employees at all levels. Simultaneously, as management, you must be open and accepting of any criticism or comments.
Is It Necessary To Conduct An Employee Performance Review?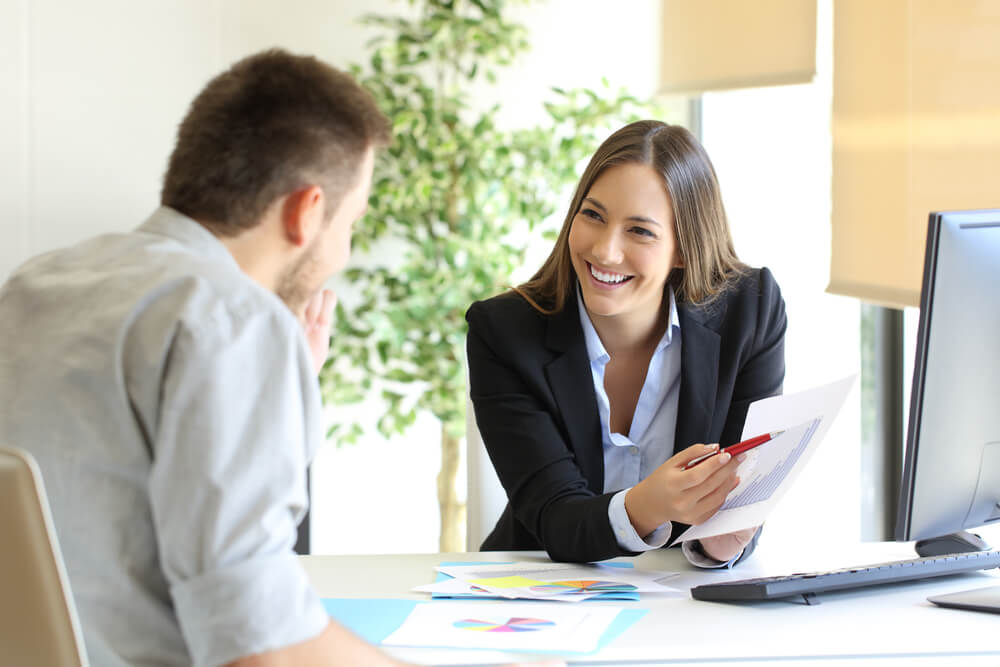 Assuming you've put all of the suggestions into action; how will you know if they're effective? One method is to conduct an employee performance review, which can be done yearly or as needed. This is the time when you will be able to ask all of the important questions while evaluating your employees' happiness and performance at work.
The D'Amore-McKim School of Business at Northeastern University shared five reasons for conducting staff reviews, which are as follows:
Improve overall performance
Increase employee engagement
Identify promotion opportunities
Identify training needs
Strengthening relationships and loyalty
Aside from acknowledging the employees' performance status, the review session allows management to inquire about the employees' well-being. Where relevant, tell them how well they're doing and ask if they'd like a raise. This is significant because failure to provide a salary increase without proper justification can harm employee morale and worsen employee turnover.
The concern is consistent with the findings of CareerAddict.com, which found that the three most common reasons for employees quitting their jobs were a lack of career advancement opportunities, low pay, and the absence of a salary pay raise.
Similarly, Achievers discovered that 54.2% of employees would leave their job for a pay raise, career advancement (37.8%), and better corporate benefits (20.7%).
You now understand the significance of performance reviews and the various things that can be done to increase employee happiness and make them fall in love with the company. But, where is the evidence that they would work?
These Are 3 Of The Top Companies With The Happiest Employees
The top three large companies, according to the Comparably Awards for Companies with the Happiest Employees 2021, are:
So, how do they do it? Given that having great perks and benefits is one of the factors that make an employee happy, let's take a look at their score in this category and what they offer.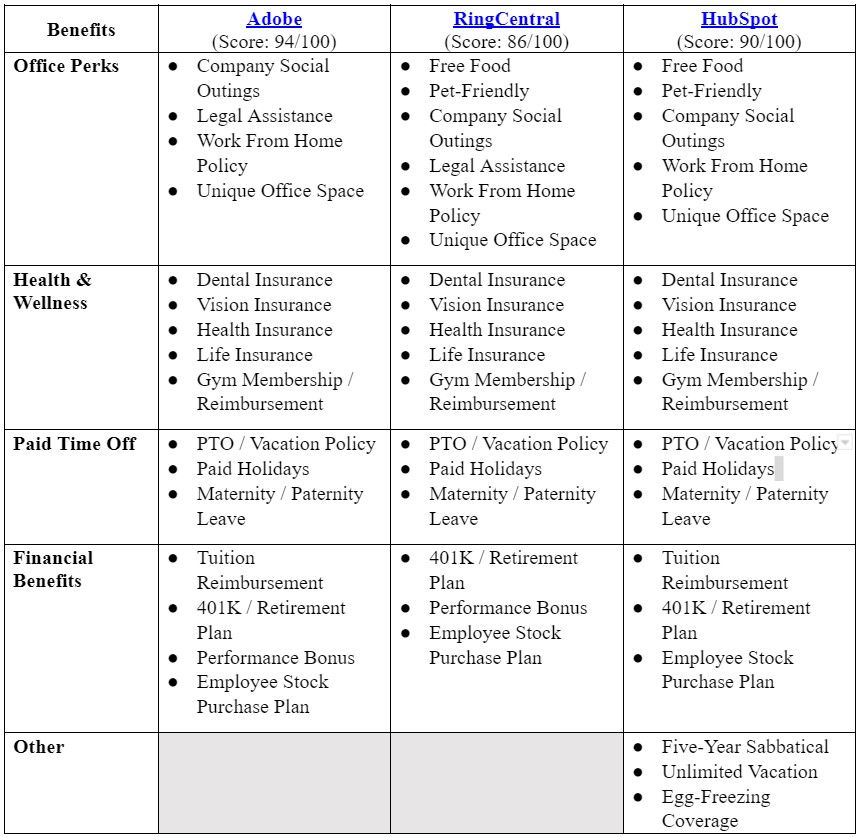 That's a pretty impressive list of benefits they have there; no surprise they are in the top three of having the happiest employees!
Everyone Plays A Role In Making A Happy And Loving Place To Work
As an employer, the best and simplest thing you can do to make your employees happy and love the company is to always ask for feedback. There are numerous aspects you'll be able to uncover, such as what employees want more of, what should be changed, what new things should be added, and many others.
At the end of the day, remember that love works both ways. Employers can't expect employees to love them if they don't show love towards the workers, and vice versa (it's a chicken and egg situation!). Then again, you could be doing everything possible, but some employees are simply impossible to please. That's perfectly fine because no one is perfect, and the important thing is that you gave it your all!
---