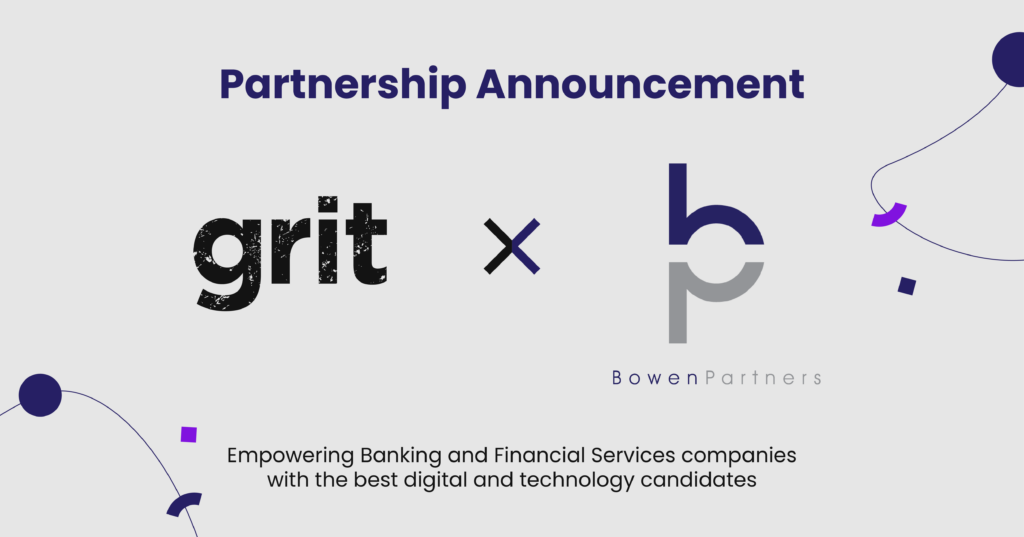 GRIT is delighted and proud to announce our strategic partnership with Bowen Partners, one of the most respected Banking and Financial specialist search firms in the region. The partnership seeks to empower the companies in banking and financial services, with Bowen Partners' expertise in filling Audit, Compliance, Finance, Risk, and Strategy/Transformation roles for many of the leading Banking and Financial Services companies, combined with GRIT's expertise in representing and sourcing top talent in Digital, Technology, and Transformation for high quality roles with the best companies in Asia.
Through this partnership, GRIT will support Bowen Partners by adding further value to their clients, giving them access to the best digital and technology talent in the region, as well as access to GRIT's own proprietary technology.
"GRIT is delighted to be partnering with such a well-regarded firm like Bowen Partners, who have built their reputation on quality delivery, expertise, and long-term relationships. Given the increased focus of Financial Services companies on technology and digital transformation, this is the perfect partnership as GRIT can now offer the clients of Bowen Partners access to highly sought-after digital native talent to make their vision a reality. It also offers GRIT's clients access to high quality specialist talent across Bowen Partners' functional areas of expertise. Furthermore, I am personally delighted to be working with Mark and Amy again, as I know their quality of work and values-driven approach aligns closely to what we strive for at GRIT," said Paul Endacott, CEO and founder, GRIT.
Mark Enticott, Founding Partner, Bowen Partners echoed the sentiment, saying "Bowen Partners is very excited to be partnering with GRIT, and offering our clients the access to specialist search capability in the areas of digital and technology across the APAC region. Having worked with Paul previously, I am confident that GRIT embraces similar values and service qualities that have resulted in Bowen Partners working with some of the world's leading financial institutions and financial services companies in APAC."
---
About GRIT
GRIT believes people look for opportunities instead of jobs in this new era of work. outstanding talents to some of the most groundbreaking companies in the industry.
Since launching in 2020 and with offices in four cities – Singapore, Kuala Lumpur, Hong Kong, and Berlin, GRIT has successfully placed hundreds of candidates into their dream jobs in innovative companies from household names to emerging startups. We are disrupting the traditional methods in the word of recruitment by building meaningful relationship between Talent with groundbreaking & innovative Companies.
Typical roles GRIT works on:
Software Engineering
Software Architects
UX/ UI Design
Data through to Monetization
Digital Marketing
Business Development
Growth
Crypto/ Web3/ Blockchain
C-level roles
About Bowen Partners
Bowen Partners is a leading executive search, specialist recruitment and talent development firm. With offices in Australia, Hong Kong and Singapore, we are true experts at identifying talent across Asia Pacific for the following areas:
Accounting & Finance
Audit, Control & Risk
Compliance
Strategy & Transformation
Looking Forward
Through this exciting partnership, both GRIT and Bowen Partners will have opportunities to provide valuable solutions and services to more employers in the Banking and Financial space. In both GRIT and Bowen Partners, companies will be able to find the right recruitment solutions covering a myriad of roles with enthusiastic support from our recruitment experts.
---