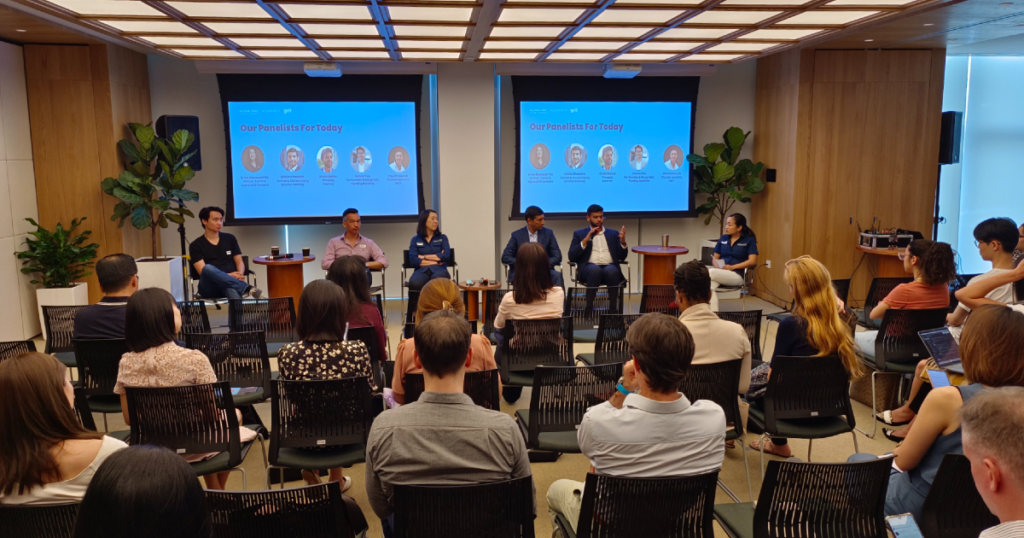 SINGAPORE, 30th November 2022 – Alpha JWC Ventures, Kearney, and GRIT recently partnered up to officially launch South East Asia's first-of-its-kind talent report – ASEAN's Growth & Scale Talent Playbook. The report was officially launched at WeWork Collyer Quay, to a crowd of over 70 representatives from various news and media portals, as well as founders and hiring managers from reputable companies. This report seeks to help companies understand the region's trends, define the challenges that they would face, and use the information to learn how to effectively build and manage digital talent.
"It is with the cumulative experience of the Alpha JWC team in the areas of talent and organisations as well as marketing and branding, combined with our extensive network of partners and track record, that we are able to compile some of our insights and put forth this playbook to help founders in their talent management for growth and success," enthused Erika Go, Partner, Alpha JWC Ventures.
Ishan Nahar, Principal, Kearney echoed her statement, saying, "The digital economy is here to stay and it's going to be massive. The understanding of the digital industry is not just about the technology, what's equally critical if not more important, is the talent behind it. And in order for us to understand that much better, we thought, why not partner up with the people who bring the expertise and have a similar mindset? That's how Kearney came together with Alpha and GRIT to put together this massively well-researched report."
During the event, some of the key highlights of the report were revealed, which included sectors that would require the most tech and digital talent, building blocks of proven best practices in attracting talent, as well as possible systemic interventions by ASEAN governments. At the panel discussion, Erika Dianasari Go (Partner, Alpha JWC Ventures), Ishan Nahar (Principal, Kearney), Paul Endacott (Founder & CEO, GRIT), Nithin Chandra (Partner & SEA Managing Director) and Kelvin Teo, CPA (Co-Founder & CEO, Funding Societies) covered topics like how founders should find the balance between conserving runway and paying for top talent, the condition of the investment landscape now, how founders and startups can leverage on the currently bigger pool of available talent, as well as what can be done by local governments in order to properly assist companies who are talent starved.
"It is crucial to pinpoint what you are looking to build and hire with your company, in addition to working out where your weaknesses are. With that in mind, you need to be realistic, and hire the right experts at the different stages to meet the current priorities. You can then be better at managing cash burn and ensuring you are hiring for the right functions that enable you to give your company the greatest chance of long-term success. Our joint effort in coming up with the report seeks to assist you in doing exactly that," explained Paul Endacott, Founder and CEO, GRIT.
With the ASEAN region poised to become the 4th largest economy by 2030 and a rapid shift towards digitalisation, more and more companies are urgently requiring people who possess the skills, experience, and local market understanding to help them with that process. In order to determine the significant opportunities that the region offers for 2023 and beyond, this incredibly comprehensive report was carefully created in partnership with founders and talent, to offer valuable insights that can be put to good use in helping companies onboard and retain their greatest resource – their people.
To get your very own copy of the newly launched report, check out this link to download it for FREE: