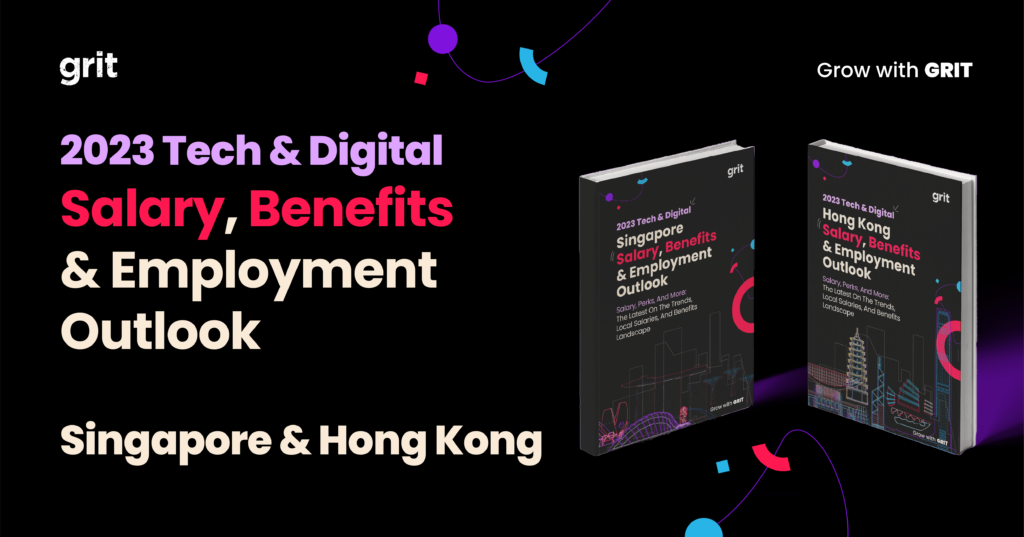 Singapore, 26th April 2023 — GRIT, the leading AI-powered recruitment solution company, is proud to announce the release of its latest Tech & Digital Salary, Benefits & Employment Outlook Report for both Singapore and Hong Kong respectively. The reports provide comprehensive insights into the current state of both Singapore's and Hong Kong's thriving employment market, covering everything from salary benchmarks to popular benefits packages.
The demand for tech talent has intensified, resulting in a talent crunch in both Hong Kong and Singapore. This, combined with a slowing economy, has created a challenging environment for employers and job seekers alike. To address these issues, GRIT has created the reports to provide a comprehensive analysis of the current employment landscape, including the latest hiring trends and market snapshots. By providing valuable insights into the employment outlook, GRIT hopes to help employers and job seekers make informed decisions to thrive in the current market.
"As companies in Singapore and Hong Kong are facing a talent crunch that could impede their ability to grow. Our reports provide critical insights that can help both employers and job seekers navigate the challenges of this competitive market. By equipping individuals with the information they need to make informed decisions, we hope to contribute to the growth and success of the tech and digital industries in both markets," said Paul Endacott, CEO & Founder of GRIT.
The report covers a range of topics, including:
Market insights and talent trends
Salary benchmarks for various industries and positions
Popular benefits packages offered by leading employers
To get your very own copy of the newly launched report, head on over to the respective country's page to download it for FREE:
Singapore - https://gritsearch.com/2023-singapore-salary-benefits-employment-outlook/
Hong Kong - https://gritsearch.com/2023-hong-kong-salary-benefits-employment-outlook/

---
For more information, please contact SY Teoh, Marketing Director at sy.teoh@gritsearch.com.